Weather across Missouri is likely to bring a mix of ice and single-digit temperatures through the weekend, increasing the likelihood of cold-related injuries.
Chris Sampson, MD, an emergency medicine physician at University of Missouri Health Care, says he often sees an influx of patients needing treatment for injuries during cold, icy weather.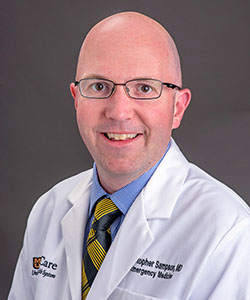 "The two most common types of injuries we see during extreme winter weather are caused by ice," Sampson said. "We treat people with injuries due to car accidents after their vehicles skid on the ice. We also treat a number of patients who slip and fall while walking outside."
Sampson recommends the following to prepare for ice:
Carry an extra blanket and coat in the car, in case you get stuck for a long period of time.
Always wear sturdy shoes with good treads to help avoid slipping.
Salt the driveway, steps and sidewalks early and often.
When walking your pet, be aware of where the leash is at all times to avoid tripping, and be mindful that your pet could pull, knocking you off balance.
But when the temperature outside remains below freezing, the cold can cause injuries, too.
"We definitely recommend limiting your time outside," Sampson said. "Most people don't realize how quickly frostbite can occur. When the temperature gets close to zero degrees, we see patients who come in with frostbite on their fingers or ears after being outside no more than 30 minutes."
Sampson says it is safe for kids to play outside, however, they need to dress in layers, keep their extremities covered and limit their time to no more than 30 minutes — the same advice he gives adults who plan to brave the cold.
Download a high-resolution photo of Chris Sampson, MD.