University of Missouri Health Care's amyotrophic lateral sclerosis (ALS) clinic has become the first ALS clinic in the country to make the Schwartz Center's National Compassionate Caregiver Honor Roll.
The Schwartz Center is a national nonprofit organization with more than 425 health care members in the United States, Canada and Australia. It is dedicated to bringing compassion to the forefront of patient-caregiver interactions.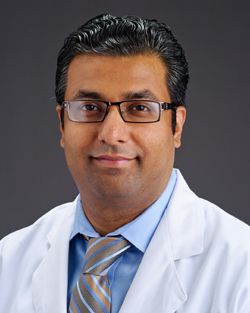 Also called Lou Gehrig's disease, ALS is a neurodegenerative disease that affects nerve cells in the brain and spinal cord. The condition usually affects individuals between the ages of 40 and 70. An estimated 20,000 Americans are living with the condition, according to the ALS Association.
"Like many neurodegenerative conditions, living with ALS is not easy," said Raghav Govindarajan, M.D., director of MU Health Care's ALS clinic and assistant professor of clinical neurology at the MU School of Medicine. "We take a multidisciplinary approach to treat the condition, with patient-centered care as one of our guiding principles."
The clinic brings together disciplines such as physical and occupational therapists, speech therapists, respiratory therapists, nutritional services, wheelchair and durable medical equipment services, social workers, palliative care services and ALS nursing care — all available in one appointment to provide the most convenient care possible. Providers at the clinic also offer a monthly support group meeting for ALS patients and family caregivers.
MU Health Care's ALS clinic is central Missouri's only ALS Association-recognized treatment center. The clinic is available on the fourth Friday of each month on the third floor of MU Health Care's University Physicians Medical Building, 1020 Hitt St.
To learn more or to schedule an appointment, visit muhealth.org or call (573) 882-1515.
Download a high-resolution photo of Raghav Govindarajan, MD. Password is muhealth.