Ryen Chism is a lot like other boys his age.
The 5-year-old Jefferson City, Missouri resident is a bundle of energy and never far from his mom, Brittney Young. He loves cars — Lightning McQueen from the movie "Cars" is his favorite — and dinosaurs, pterodactyls specifically.
Ask any parent and they'll have at least one story to tell about a sick kid during the holidays. Ryen was no different there, too. He started vomiting the weekend before Thanksgiving in 2022 but hadn't stopped by the time it was time to cut the turkey.
That's when Ryen's story became less familiar.
"As time went on, I knew it wasn't viral and I thought, 'Something's not right here," Young said. "He usually eats everything on his plate and some from mine — I call him my diet buddy. But he wasn't eating, and if he did, he would throw it right back up."
Then there was blood in Ryen's vomit, so Young took him to urgent care twice, including Thanksgiving Day, and was told to try Zofran.
On Friday, Young drove Ryen to MU Health Care's Children's ER. After giving Ryen fluids and listening to his symptoms, his doctors started doing blood work and scans. A CT scan showed tumors on his kidneys, which made those vital organs swell and compromised their function.
Ryen had cancer.
"My first reaction was, 'Somebody pull me out of this movie,'" Young said. "I was outside of my body watching myself on a big screen thinking, 'This isn't real.'"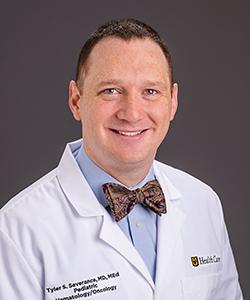 Thankfully, MU Health Care's Tyler Severance, MD, was the right person to pick up the phone. A pediatric hematologist and oncologist, or childhood blood and cancer specialist, Severance could relate to Young and her son: He is also from Jefferson City and has a daughter born one day after Ryen.
Severance was concerned about the cancer's aggressiveness and took a bone marrow sample from Ryen's hip. Working quickly at 10 p.m. on a holiday weekend, the doctors and nurses of the Children's Cancer and Blood Disorder Clinic, as well as pathologists in the diagnostic lab, helped Severance make an official diagnosis.
'We're never alone'
Ryen's cancer was a rare and aggressive disease that started in his lymph nodes called Burkitt lymphoma. Severance decided that his young patient couldn't wait for the clinic to re-open on Monday.
"We needed to admit him right away and start moving him towards a cure," Severance said. "The most helpful thing was everybody said 'Yes' along the way. A pharmacist was on standby for special medicines and the pediatric ICU and nephrology teams helped manage his blood pressure and electrolytes. Everyone was ready to help at a moment's notice, and that moment was at 2 a.m."
Ryen had a lot of people on his team from start to finish: Laura Hesemann, MD, an expert in caring for children's kidneys; pediatric cancer specialists Barbara Gruner, MD, and Alicia Bach, MD; pediatric infectious disease expert Amruta Padhye, MD; and pediatric ICU specialist Katy Higdon, MD.
"We're never alone, and that is just as true for patients and families as it is for members of the medical team," Severance said. "We're a team that collaborates to make sure we're leaving no stone unturned for patients like Ryen as he starts off on his cancer journey."
Ryen had the most aggressive and advanced stage of Burkitt lymphoma: Apart from the tumors on his kidneys, there was evidence the lymph nodes in his head and neck, and the spinal fluid surrounding his brain, and his bone marrow were also developing tumors.
"Burkitt lymphoma is very sensitive to chemotherapy, to the point that you can actually treat it too quickly and cause organ failure or other severe issues," Severance said. "Ryen got, like many other patients, a pre-phase of lighter chemo to gently begin treatment and stop his cancer from spreading as quickly before going into the main intensive cycles."
The introductory round to chemo was a breeze, which made Young hopeful that her son would have no complications from the cancer-killing drugs.
But the stronger treatments caused hair loss and mouth sores, and Ryen needed inpatient care for every following cycle. The medication put stress on his kidneys, which led to high blood pressure, fevers caused by low white blood cell counts — also called neutropenic fever — and put him at risk of serious infections.
"I would tell Ryen, 'You have little buggies in your body that make you feel very, very yucky,'" Young said. "'So they have to give you medication to get rid of those buggies, but that medication's going to make you feel very yucky.' Anytime he encountered something difficult, I'd say, 'Hey, we got to do this so we can get those buggies out so we can go home.'"
Crossing the finish line
Ryen and his family became familiar faces to the nurses and staff on the sixth floor of Children's Hospital. Ryen watched 'Cars' over and over after seeing it for the first time in his room and ventured to the visitor's lounge to line up all his toy cars for the starting grid of his own Piston Cup.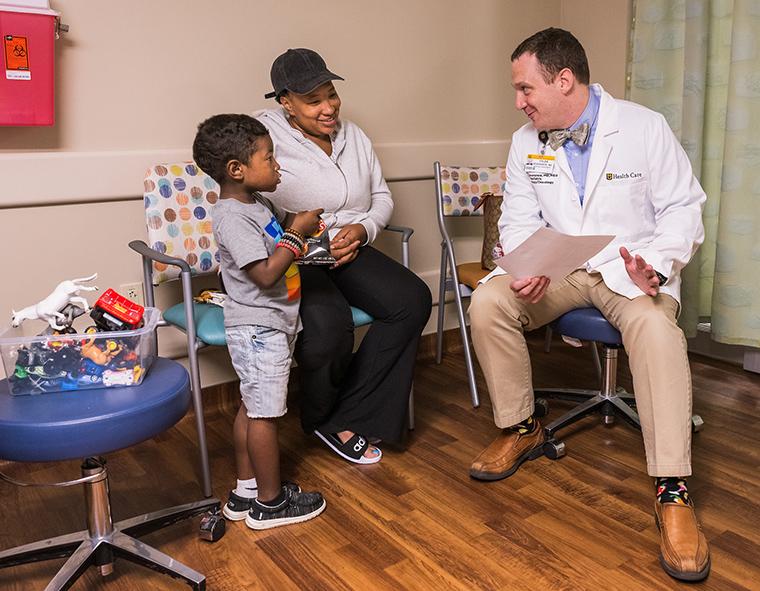 He and his family recall all the names and faces on that floor, and Young remembers the little things, done every day, to help make things easier. A larger room to fit Ryen's toys; vouchers for the cafeteria dropped off without request; a nurse washing their clothes one night while they slept. His team of cancer doctors even delayed his last round of chemo so Ryen could celebrate his birthday at home.
"He wasn't just a snot-nosed kid that was sick. They treated him like Ryen, not 'room whatever,'" Young said. "Having this kind of care so close is a relief because I have a family, I have three other children, so being just 30 miles from home was a lot better than being much further. But it was even better because they just treated Ryen like Ryen. I loved it."
Then there were support staff to help keep Ryen's spirits up during treatment: Physical therapists, child life specialists, music therapy and Link, the Children's Hospital facility dog, always made time to stop by.
Ryen's last round of chemotherapy was in May of 2023, though Young said she didn't fully exhale until follow-up scans showed he was in remission.
To celebrate, staff scheduled Ryen's bell-ringing ceremony in July, and presented him with a hand-made poster, signed by everyone from Severance to Link, with Lightning McQueen in the middle. The bell sits at shoulder height on an adult, so Ryen needed one last lift to ring the bell. Severance was more than happy to help.
"I can't do it justice with words," Severance said. "The whole clinic paused, and people from all corners of the hospital, who had only seen Ryen's name on a piece of paper or computer screen, were there to celebrate with him. Some of our nurses drove in from all over the state on their days off so they could be part of his moment. I hope that Ryen someday knows how much he impacted us, how much we are impressed with his bravery, his resilience."
Now that Ryen is on the road to recovery, his life is less busy and closer to that of an average 5-year-old. But at every follow-up appointment at Children's Hospital, he is reminded of how special he truly is.
"He's gone through a lot for a kid his age," Young said. "It's wonderful to be able to see him grow up and have fun now that he's crossed the finish line."