Ellis Fischel Cancer Center, part of MU Health Care and the University of Missouri Health Care system, identified skin cancer as an outreach, prevention, and screening need for our served community in 2016.
Patients from each of Missouri's 114 counties are served by the approximately 6,000 physicians, nurses and health care professionals at MU Health Care, one of only two safety-net providers in the state of Missouri.  Thus, the statistics and data provided in the annual community outreach summary below are largely reflective of the entire state unless otherwise noted.
The Missouri Department of Health and Senior Services suggests that skin cancer is the most common cancer among women in the state of Missouri.  According to the Centers for Disease Control and Prevention, nearly 32,000 Missourians died from melanoma of the skin in 2012 (the most recent year with numbers available), and the American Cancer Society estimated 1,510 new cases of melanoma in Missouri in 2014.   
Melanoma accounts for less than 2% of all skin cancer cases, but the vast majority of skin cancer deaths. However, melanoma is highly curable with early detection and treatment. The number of basal cell and squamous cell skin cancers (NMSC) is difficult to estimate as these cases are not required to be reported to cancer registries. Nonetheless, most cases of NMSC are also highly curable provided the cancer is detected and treated early. Based on recommendations from the Community Preventive Task Force, a task force of the U.S. Department of Health and Human Services, Ellis Fischel Cancer Center exercised a multicomponent community-wide approach to promote skin cancer awareness, prevention and screening in 2016.  Outreach and prevention activities took place in various locations throughout the community.  Emphasis was placed on increasing UV-protective behaviors, specifically use of sunscreen and limited indoor and outdoor tanning, and heightening awareness of skin changes. Reinforcement of skin cancer prevention messages was delivered via social media during Skin Cancer Awareness Month.   
Skin Cancer Screening—May 5, 2016
The National Cancer Institute (NCI) states that more than 90% of melanomas that arise in the skin can be recognized with the naked eye. Further, the NCI indicates that while direct evidence of improved health outcomes associated with skin cancer screening is lacking, skin cancers (whether melanoma or nonmelanoma) should not be deemed unimportant or neglected. When neglected, skin cancers can be disfiguring and/or cause death. 
In accordance to screening and intervention guidelines set forth by the American Academy of Dermatology, Ellis Fischel Cancer Center hosted a free SPOTme® skin cancer screening during Skin Cancer Awareness Month.  Participants were offered sunscreen and educational information with regard to sun protection strategies and skin cancer self examinations. Information provided was in compliance with the American Cancer Society, Skin Cancer Foundation, and American Academy of Dermatology prevention guidelines. Exposed areas (face, neck, arms, hands, etc.) were visually inspected by medical personnel for skin cancer.
 201 participants
45 referred for follow up
16 referred for biopsy
9 Basal Cell
2 Squamous Cell 
Reservations were requested for the screening and attendance was tracked by the Community Outreach Coordinator upon patient check in. The Registration and Report Personal Health Information (PHI) form was also used to track and record screening with both the volunteer medical personnel and the American Academy of Dermatology. The document was given to the patient as a record of the screening details and could be used at follow-up treatment with a dermatologist if a suspicious lesion was found. 
Promotion of the free SPOTme® skin cancer screening included a press release, print display ads, digital signage on internal TVs and computer screens, and a flyer distributed to University of Missouri students. The screening was also announced during a "Melanoma Monday" news story on the local NBC television affiliate.  The Missouri Department of Agriculture reported a quarter million of Missourians were employed in the agriculture industry in 2014.  Given that many agriculturists have a high exposure to radiation, promotion of the screening in rural newspapers was done one week prior to all other marketing of the event. Of note, full skin screenings are offered year round by Cancer Screening Services at Ellis Fischel Cancer Center.  
A review of our own cancer registry data was completed and compared against the National Cancer Database and presented at our COC meeting by Dr. Huang on October 31, 2016.  
Objective: To understand the Melanoma cancer patient population at Ellis Fischel a retrospective review was performed to evaluate the presenting characteristics and outcomes of Melanoma patients at Ellis Fischel Cancer Center from 2003-2013.
Method: An Ellis Cancer Registry data review was conducted in October 2016 and all cases of melanoma were reviewed between 2003-2013 and identified by age and sex. Survival was evaluated in relation to the melanoma stage based on information available from the National Cancer database. 
Distribution of patients: 868 patients with Melanoma were seen and treated at Ellis Fischel between 2003 and 2013.  The most common type of Melanoma was Superficial Spreading Melanoma.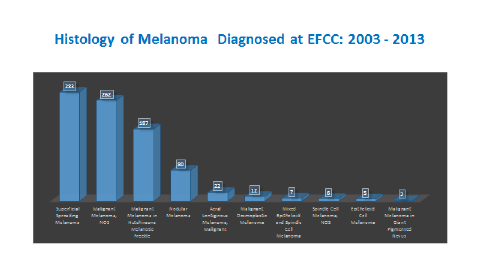 Age distribution: Most of the patients were 60 or older (23.39%). Melanoma was diagnosed in mostly older patients, 19% in the 70-79 years, making up almost half the diagnosed population.  Melanoma was rarely detected in patients less than 20 years of age. (<1%).   Age of diagnosis comparable to the national benchmarks.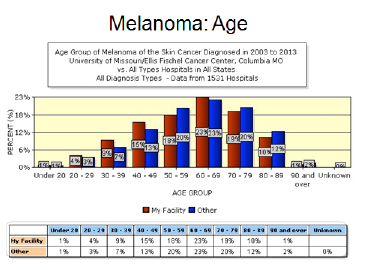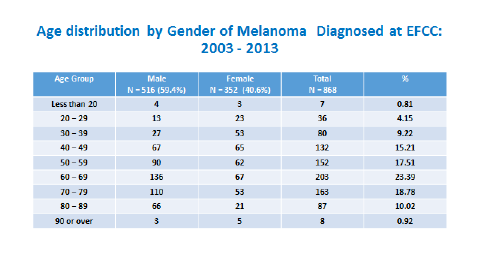 Stage of Diagnosis: The primary stage at diagnosis was Stage 1. EFCC staging distribution is comparable to the National Cancer Data Base.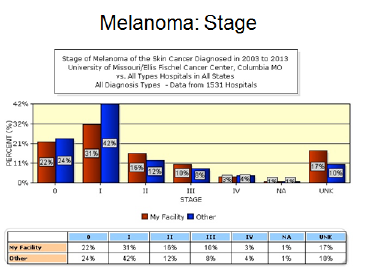 Treatment Modalities: The primary treatment offered by stage of disease is similar to the treatment patterns noted in the NCDB.