When you have a mole, spot or another area on your skin that looks suspicious, you want to know if it's a cause for concern as soon as possible. If you are diagnosed with skin cancer or melanoma, you'll want cancer care treatment from the experienced team at University of Missouri Health Care.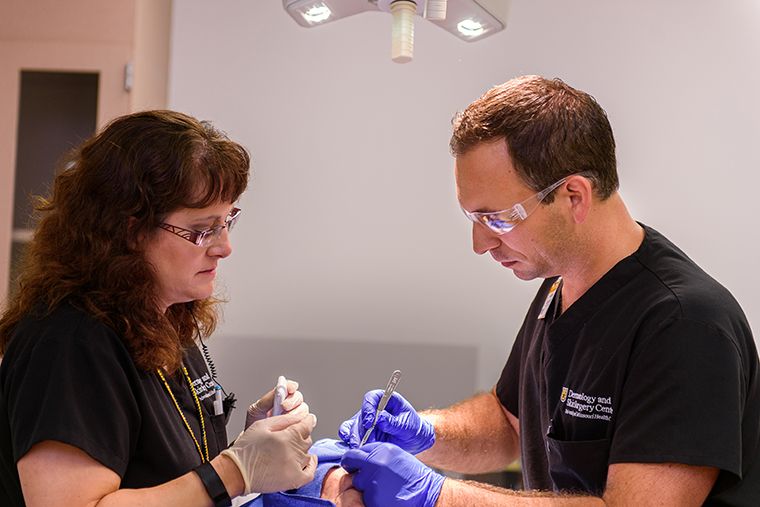 We serve as the regional treatment center for skin cancer and melanoma. Patients come from across Missouri and neighboring states to seek treatment from our experienced, professional team of melanoma and skin cancer specialists.
Through screening, diagnosis, staging, treatment and long-term follow-up care, our interdisciplinary team of physicians and health care providers will provide you with an individualized treatment plan and comprehensive care. We also make sure you have access to the most advanced treatments possible.
To provide you with the most comprehensive treatment possible, we coordinate care with many subspecialists including providers from:
Dermatology
Dermatopathology
Dermatologic Surgery
ENT (ear, nose and throat)
Head and neck surgery
Medical oncology
Oculoplastic surgery
Plastic surgery
Surgical oncology
Developing a customized treatment plan for each patient
Your treatment begins with a consultation with our dermatology team. During that conversation, we review your diagnosis and laboratory results, discuss options for treatment and answer all of your questions. Then, we will work with you to develop your treatment plan. Particularly if you are traveling from out of town, you may be able to receive treatment on that same day. 
Our significant experience and specialized fellowship training means we can treat both common and rare skin cancers, large and small cancers and cancers in the most delicate locations such as the eyelids, ears and nose. Because of our close integration with all of the specialties listed above, we coordinate care on your behalf to streamline your visit to our facility.
Skin cancer treatments we offer
Mohs micrographic surgery offers patients the highest cure rate for most types of skin cancers, and we are proud to offer this advanced treatment to our patients. We are the only academic, fellowship-trained provider of Mohs micrographic surgery outside of St. Louis and Kansas City, and one of only three training programs for this specialized technique in Missouri. During a Mohs surgical procedure, your surgeon removes each layer of the tumor so that he can eliminate all cancerous cells.
Our dermatologic surgery clinic has cared for thousands of patients, and we have one of the highest patient satisfaction scores in the University of Missouri health system. We do not get these scores without doing excellent work. The Mohs procedure provides a 99 percent cure rate for basal cell carcinoma and a 97 percent cure rate for squamous cell carcinoma, so typically once a skin cancer is treated with this technique, it will not return. 
Mohs surgery is also the most conservative or tissue sparing of the surgical treatments for skin cancer. Once removal of the cancer is complete, our doctor and his team are typically able to repair the defect in a cosmetically elegant fashion on the same day. If your cancer requires multidisciplinary care, we have specialists in plastic surgery, head and neck surgery, oculoplastic surgery and oncology standing by to coordinate care. 
Leading-edge research and clinical trials
In addition to highly specialized diagnosis and treatment options, physicians at Ellis Fischel Cancer Center lead clinical trials for various types of cancer, including melanoma and other skin cancers.
Fellowship training for the dermatologists of tomorrow
The University of Missouri Dermatology and Skin Surgery Center has a proven track record of providing high-quality care for the most complex and challenging skin cancers. For this reason, we were approved by the American Board of Dermatology and the ACGME (Accreditation Council for Graduate Medical Education) to host the only fellowship-training program in mid-Missouri. This fellowship brings physicians from across the nation here to do subspecialized training in micrographic (Mohs) surgery and dermatologic oncology. 
Related Conditions & Treatments