University of Missouri Health Care's ambulance service has provided advanced life support (ALS) pre-hospital care for the citizens of Columbia and Boone County since 1968.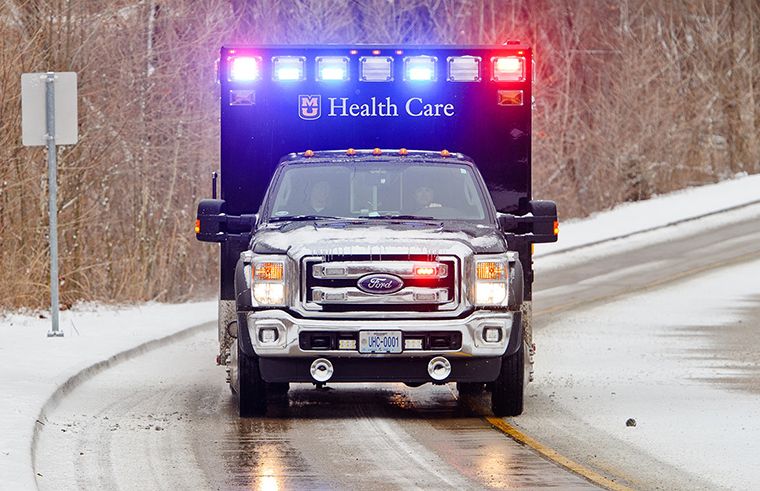 Emergency Medical Services (EMS) is an extension of health care into the community from beyond hospital doors. MU Health Care's ambulance services includes bases at University Hospital, Mizzou North, Woodrail Center and Women's Hospital, all in Columbia. An ambulance base also is located in Ashland, Missouri.
Unique Ambulance Features
CleanSpace® Halo respirators are small, battery-powered respirators that filter out germs.
AeroClave® room decontamination system cleans the air with a decontaminating and biodegradable mist.
LanguageLine solutions gives our EMS personnel access to both audio and video translation for 44 of the most common languages, and audio for an additional 200 other languages.
MU Health Care's ambulance service serves as the exclusive provider at concerts and athletic events at Mizzou athletic facilities. The staff provides medical care at many community events, including MU football games, Special Olympics Missouri games, Columbia's Memorial Day Salute to Veterans air show, and Show-Me State Games. You may also see MU Health Care's ambulances and staff at various educational community events, including docudramas at high schools, carnivals at schools in the Columbia Public Schools system and Safe Kid's Discovery Day.
Ambulance bases
Ashland Ambulance Base
Ashland, MO
Mizzou North
201 Business Loop 70 W.
Columbia, MO 65203
University Hospital
573-882-4141
One Hospital Dr 
Columbia, MO 65212
Women's Hospital
573-875-9000
404 Keene Street
Columbia, MO 65201
Woodrail Center
1000 W. Nifong, Building 5
Columbia, MO 65203