The MU Health Care Air Medical Service is made up of an advanced team of highly qualified pilots, flight nurses and flight medics that provide lifesaving care throughout Missouri.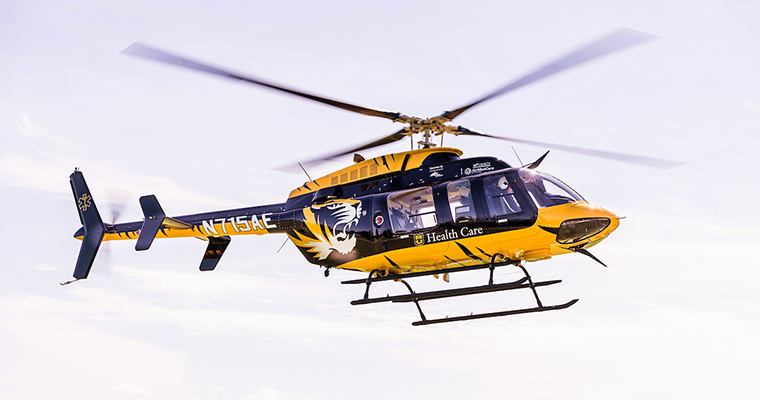 The program strives to deliver rapid, safe and efficient helicopter transport for critically ill and injured patients. As part of the emergency medical response system, the helicopter service works cooperatively with referring law, fire, emergency medical services (EMS) and health care providers to transport patients to the most appropriate facility.
Although the destination often is a hospital in mid-Missouri, we also transport patients to facilities in Springfield, Kansas City and St. Louis.
If you are from a referring hospital or agency or a receiving hospital, we welcome your feedback. Learn how to provide feedback.
Accreditation
The Air Medical Service is accredited by The Commission on Accreditation of Medical Transport Systems (CAMTS). CAMTS is dedicated to improving the quality of patient care and safety of the transport environment.
Memberships
The Air Medical Service participates in the AirMedCare Network membership program. For more information, call 855-376-8593 or visit www.airmedcarenetwork.com.
Aircraft Requests
Referring providers from Missouri health care facilities, law enforcement agencies, fire departments, and EMS can request a helicopter transport by contacting the Air Medical Service Communications Center at 844-682-2734 (MUCARE4). 
Inter-facility transport requests
Name of sending hospital and physician
Call-back number
Approximate age and weight of patient
Diagnosis and medical needs (ventilator, balloon pump, medication infusions, etc.)
Preferred patient destination
Scene transport requests
Name of requesting agency
Call-back number
Approximate age and weight of patient
Suspected diagnosis and medical needs
Landing zone location

Pre-designated landing zone, if nearby
Temporary landing zone location including points of reference that may be seen from the air (antennas, water towers, major roadways/intersections, nearby towns, etc.)

Ground contact and preferred frequency (often Fire Mutual Aid or VFIRE21 - 154.28000)
The pilot-in-charge will perform a risk assessment and evaluate the current and forecast weather conditions. We will do everything we can to get to you and deliver the patient to definitive care. But, mission safety demands a shared focus on proactive, open communication and risk mitigation. 
Aircraft, Bases and Service Area
Our air medical transport service will respond to any hospital in the state of Missouri and transfer to the preferred receiving facility. Scene flights are typically performed within an approximate 30-mile radius of each base.
Bases of operation are located in Moberly, Osage Beach, Sedalia and Kirksville. All MU Air Medical aircraft feature a variety of safety features: Night vision capability, Garmin Helicopter Terrain Awareness and Warning System (HTAWS), autopilot, and Flight Data Monitoring Systems (FDMS).
The aircraft are tracked via satellite using SkyTrac® from the Communications Center in O'Fallon, Missouri. Medically trained communications specialists with orientation to our specific service area staff this FAA-approved Operations Control Center.
Feedback
Your insights are important to us, and we welcome your honest feedback.
Please take a moment to fill out the below survey.
Referring Hospital/Agency
Receiving Hospital