Losing weight can be a huge challenge. At University of Missouri Health Care, our bariatric experts understand that weight loss is not always easy and offer comprehensive solutions to help you achieve a healthier weight.
Experienced MU Health Care bariatric surgeons have helped thousands of people successfully lose weight, reducing their risks for diabetes, heart disease and other conditions. We offer multiple surgical and nonsurgical options and work with you to choose the weight loss journey that's right for you.
Personalized surgical weight loss solutions
MU Health Care weight loss experts offer laparoscopic adjustable gastric banding (also called lap band surgery), one of the least invasive methods for losing weight. The adjustable lap band helps you lose weight by restricting how much food enters your stomach.
During adjustable lap band surgery, your MU Health Care surgeon will make a few small incisions in your abdomen. Using specialized tools and a camera, your surgeon places a silicone ring around the top part of your stomach, making a small pouch to hold and digest food. Saline is used to tighten the band to the correct size. Your surgeon will also place a small port under the skin on your abdomen. This port allows your surgeon to easily inject more saline or remove saline from your band to make it tighter or looser. The entire procedure takes about an hour.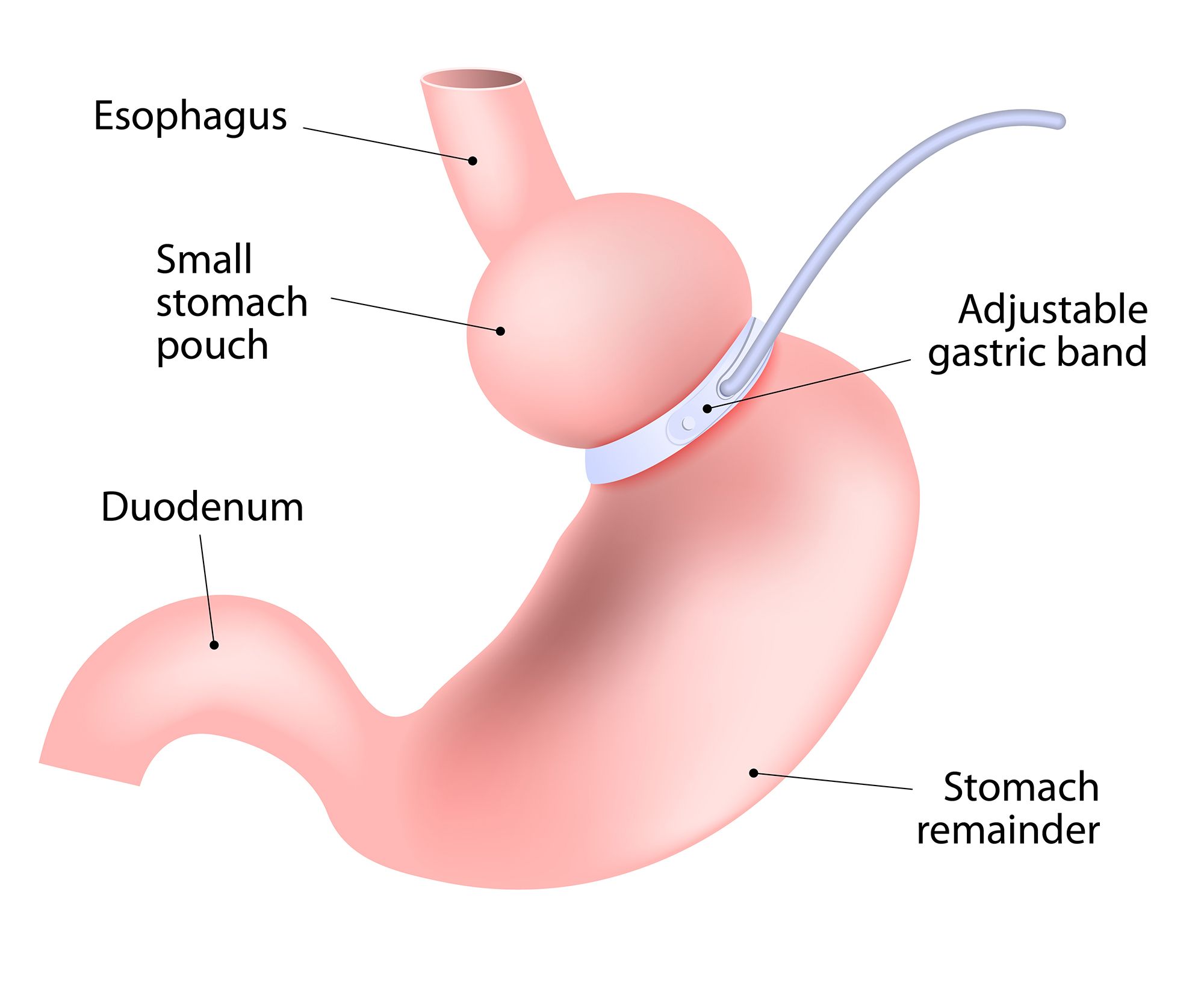 After surgery, you will become fuller faster due to the smaller size of your stomach. As the name suggests, the band can be easily adjusted to allow more or less food in according to your health needs and weight loss progress. For instance, if you become pregnant after surgery, the band can be loosened to ensure you and your baby get the nutrition you need for a healthy pregnancy then tightened again after pregnancy to help you lose weight. You'll meet with our team monthly for the first year after your surgery to track weight loss and determine the need for adjustments.
Team support for weight loss success
Using our team approach to care, MU Health Care specialists give you extensive support for weight loss success. As part of our program, you receive advanced surgery from bariatric surgery experts, nutrition counseling from specialized dietitians and personalized exercise programs designed by highly trained physical therapists. At MU Health Care, we provide the tools you need to lose weight and keep it off.
Learn more about Bariatric Surgery Services at MU Health Care.