After waking up in the middle of the night with chest pains, Ronda Spooner spent the next few days in the cardiac intensive care unit at MU Health Care's University Hospital. She had a stent implanted to open an artery that was 95 percent blocked. It was a lousy way to spend a weekend.
That isn't the way she remembers it, though.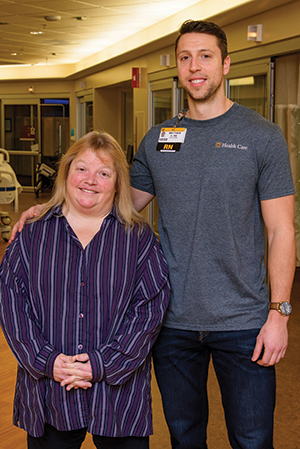 One of her nurses, Matthew Voorhis, RN, went out of his way to get to know her. That made all the difference.
"He had a huge sense of humor, and he and I just clicked," Spooner said. "We threw our funnies back and forth at each other. He did his job very, very well and took care of all the things I needed done medically, but the interaction between us got me through my first day in the hospital. It should have been miserable, but it wasn't. It was almost pleasant."
Voorhis said he took his usual approach with Spooner. He asked a lot of questions about her and found some common ground — they've both traveled extensively — upon which to build a good relationship.
"When I first meet a patient, I'll continuously talk to them while I'm doing my daily stuff and keep digging deeper into their lives to learn what they've been through," he said. "Then I can find things to build on. If you connect personally with somebody, they're more likely to tell you what's going on medically and also more likely to ask you for help. It actually makes you want to go that extra step because now you know them on a personal level."
Spooner's experience was exactly what MU Health Care wants for all its patients. Creating the best possible patient experience requires more than the clinical expertise to diagnose and treat medical problems. It also requires consideration of what a patient might be thinking or feeling.
It is this part of health care, the human side of medicine, that Kevin Gwin thinks about all the time.
Data-driven approach
When Gwin joined MU Health Care in 2016 in the newly created position of chief patient experience officer, his goal was to treat patient loyalty with the same rigor used for the management of finances and clinical outcomes.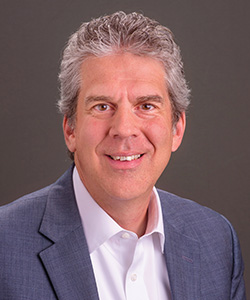 That meant changing the way patient experience information was gathered. The previous model was a long, anonymous survey — 50 to 70 questions — mailed to patients weeks after their visit. The return rate was minimal, and it was difficult to address complaints, because there was no way to know the identity of the patients and the circumstances of their visit.
"We went back and looked at where this data was coming from," Gwin said. "The sample size was too small, so it was not credible. If you see 100 patients and only three of them fill out surveys, what have we learned? Every patient's feedback is important, and we can learn from it, but how do you come to conclusions from three completed surveys? You can't. So we started building more integrity into the structure of our data so it's more meaningful."
Now, discharged inpatients receive a phone call from a surveyor. Outpatients receive an automated phone call or a short email survey that is usually six to 10 questions.
Gwin has a six-person team in the Office of Patient Experience. Among them is Sarah Hicks, a business intelligence analyst whose job it is to interpret all that patient feedback.
"I try to find trends about what's going on with the patients that we can address to try to improve things," Hicks said. "I'll look at specific units. I'll look at demographics. I'll look at what county do you live in. Does it make a difference if you're farther out? Does it make a difference if you see one of our primary care providers versus somebody else?"
Gwin said 85 percent of the responses give MU Health Care the highest possible score. Patients who provide negative or neutral feedback are contacted by phone to learn more about their experience.
"When it's all on paper or it's on the computer screen, it's easy to think, 'It's another patient comment,' " Gwin said. "But when you call them back, now it's a real person just like you, and they talk about how this made them feel. You might think, 'Gosh, I would feel the same way if that was me or my child.' Now, we're invested in fixing this and aligning ourselves to our patients' preferences where it's appropriate."
In addition to survey data, the Office of Patient Experience gathers information from direct observation. Karen Harris, RN, has more than 40 years of nursing experience. She frequently visits clinics and accompanies doctors for a morning or afternoon.
She pays particular attention to the doctors' social and communication skills.
"It's behavioral things," Harris said. "Did they knock before entering? In this academic medical center, we have fellows and residents and medical students — patients don't understand the difference — so I look at how they introduce their team. Did they sit when they were in the conversation with the patient? Did they answer questions in plain language in a way the patient can understand?"
After the doctor leaves the room, Harris lingers and asks the patients if they are clear on their plan moving forward. If not, she invites the doctor back into the room for a recap.
Afterward, Harris types up a summary that is shared with the doctor. Harris sees her role as providing doctors with a blueprint to improve patient interactions. The answer for MU Health Care employees almost always comes back to building strong relationships with patients and their families.
Personal touch
Devin Lynch had just completed her evening graduate school class and stopped by her parents' home to pick up her three children. Her youngest, 3-year-old Leo, was so eager to see his mom as she walked up the stairs, he ran headlong into a post at the top of the stairway.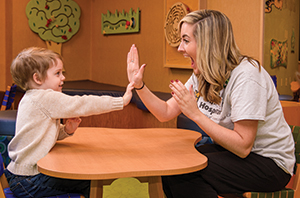 In the emergency department at Women's and Children's Hospital, Leo was upset about the gash in his forehead and scared about his first visit to a hospital. His mom was anxious, too, until one of the hospital's certified Child Life specialists, Brittany Riley, popped into the room.
"He had never experienced anything like this before, so the biggest thing was building a rapport with him," Riley said. "We do that a lot through play, bringing in some things that mom and dad said he likes. Another major thing that we do is procedural preparation. We typically bring in a doll that already has stitches, showing him the materials, letting him manipulate the materials, giving him step-by-step the sensory information he'll experience, letting him know how to do his big jobs so there are no surprises."
Riley described the stitches as magic string Band-Aids. She compared the sterile field placed around Leo's face to a fort. She set him up with an iPad he could watch inside the fort. What Leo really wanted during the procedure was a popsicle, and afterward Riley gave him one.
Then he had one more request.
"He wanted a picture with his new friend Brittany so he could remember," Lynch said. "He kept calling her that: 'My new friend Brittany.' "
What started as a painful and scary experience ended with a personal connection that a little boy will remember fondly.