If you have a child heading into the eighth grade or their senior year of high school, you will need to get them vaccinated before school begins. University of Missouri Health Care primary care locations and pharmacies provide convenient vaccinations for children of all ages, helping protect our community from infectious diseases.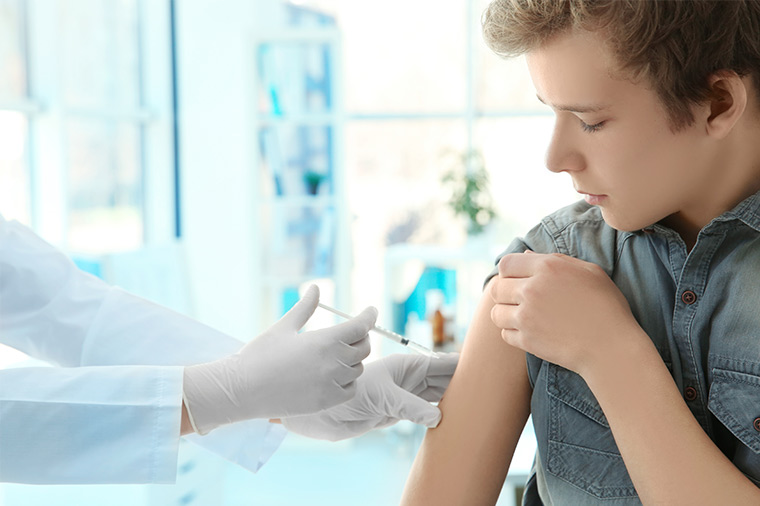 Missouri vaccine requirements
New, statewide immunization rules require Missouri students entering eighth and 12th grades to have the meningococcal vaccine. Students must have one dose of the vaccine before eighth grade and two doses of the vaccine before 12th grade, unless the first dose was administered when the student was 16 or older.
Meningococcal vaccines protect against dangerous meningococcal diseases. These diseases, caused by bacteria, can infect the spine and brain. Without quick care, these conditions can cause brain damage, long-term disability and even death.
All incoming eighth grade students also need the Tdap (tetanus, diphtheria and pertussis) vaccine if they have not received a Tdap booster since August 2014.
Tdap vaccines protect your child from tetanus, diphtheria and pertussis. These dangerous conditions can cause lockjaw (tetanus), serious breathing problems, pneumonia and even death. Vaccines are the best way to prevent these conditions.
Immunization services locations
If your child already sees an MU Health Care physician, you can simply contact your physician's office to schedule an appointment.
These vaccines are also available through our Mizzou Pharmacy locations.
For more information on immunizations, please contact one of the clinics or pharmacies listed below.
Family Medicine Locations
Pediatric Locations
Internal Medicine and Pediatrics Locations
Mizzou Pharmacy locations