Transcranial magnetic stimulation (TMS) is an FDA-approved nonsurgical procedure to treat depression in adults who have not had success with medication.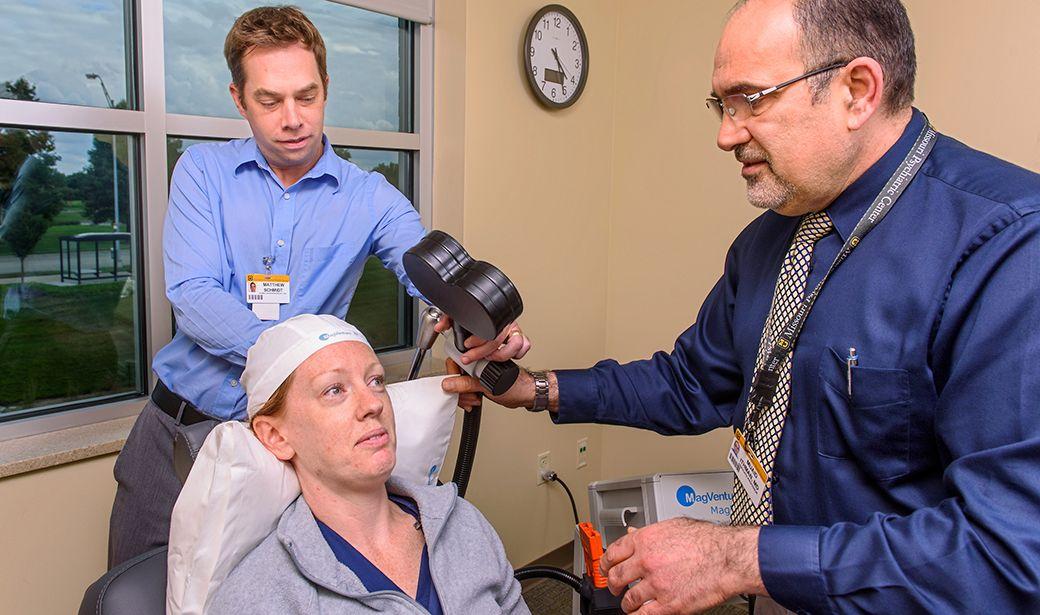 MU Health Care offers TMS at its Interventional Psychiatry clinic at the South Providence Psychiatry facility.
Neuromodulation is one of three methods — along with traditional psychotherapy and medication — used to treat psychiatric patients.
A device that emits magnetic pulses to the brain's left prefrontal cortex is placed on the patient's head. The pulses stimulate nerve cells in the brain that control mood.
Research has shown that about a third of patients go into remission, meaning depressive symptoms completely go away.
TMS has typically involved five 20-minute sessions per week for at least six weeks. However, the Interventional Psychiatry clinic is the region's only provider that offers a new version of TMS recently approved by the FDA that cuts individual treatment times down to just three minutes.
TMS is an outpatient procedure that doesn't require anesthesia, and patients can drive immediately after their session. During treatment, patients will hear a clicking sound and feel a tapping sensation on their head. A small percentage of patients complain of mild discomfort or headaches afterward. TMS patients do not suffer from antidepressant medication side effects such as weight gain, fatigue or insomnia.
The patients who can people receiving the treatment are chronic in nature, because they have failed at least two antidepressants, so they will need maintenance after this. We hope to put them in remission and maintain them or at least give them a response to improve and maintain them on other medications."
At the Interventional Psychiatry clinic, TMS is just one of the offerings. Light therapy boxes that mimic sunlight can treat seasonal affective disorder in the winter. Cranial electrotherapy stimulation, which involves sending a very low current to the brain through clips on the earlobes, is used to treat anxiety. Electroconvulsive therapy, in which electric currents are passed through the brain to trigger a brief seizure and change brain chemistry, is available to treat a variety of mental illnesses.
People interested in trying TMS or other treatments at the Interventional Psychiatry clinic should contact their primary care provider or psychiatrist, who can refer them to the Missouri Psychiatric Center. TMS is covered by most insurance providers.
Related Conditions & Treatments