University of Missouri Health Care's team of dietitians is available to provide you with one-on-one private nutrition counseling and build personalized nutrition plans. Many patients find nutrition counseling helpful as they manage health conditions and work to improve their health with healthy eating habits.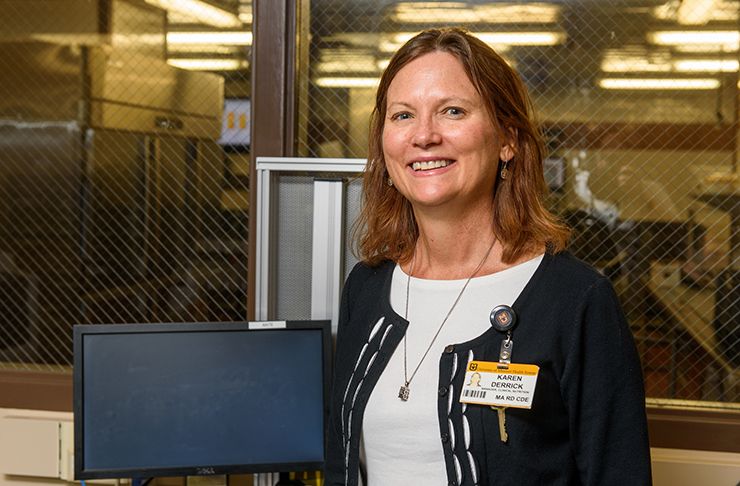 What is a dietitian?
Anyone can call themselves a nutritionist, but only a registered dietitian (RD) or registered dietitian nutritionist (RDN) have met the strict education and training requirements, including continued professional education requirements to maintain registration. More than half of all RDs and RDNs hold master's degrees and higher. Many have certifications in specialized fields such as diabetes, nutrition support, renal, pediatric, oncology or sports nutrition.
What can a dietitian help me with?
People seek services from a registered dietitian/nutritionist for many reasons. Some are concerned with wellness and disease prevention issues, such as learning to eat healthier or decrease the risk of heart disease, cancer or other chronic conditions.
Others would like to learn more about sports nutrition, infant/toddler feeding or better ways to manage their weight or fight the aging process.
Medical reasons to schedule an appointment with a dietitian include but are not limited to:
Cancer
Cardiovascular disease – high blood pressure, high blood cholesterol, heart disease
Diabetes
Food allergies and intolerances
Gastrointestinal (GI) issues
Kidney disease
Overweight/Obesity
Pregnancy
Tube Feeding
Weight management
What can you expect?
To make an appointment with a dietitian, call 573-882-7000. Your first appointment will most likely take 45 minutes to an hour. Your dietitian will complete a full assessment to understand your goals, what you typically eat, your schedule and your food preferences. To help us understand your eating habits, we often ask patients to record everything they eat or drink for a few days before to their visit.
We want our patients to learn as much as possible during your visits, so we encourage you to ask questions. If you are wondering about specific foods or something you have read, please bring in the food labels or articles. We would be happy to discuss them with you.
Your success, health and happiness are important to us. Our aim is to create a plan that works for you and helps you achieve your goals.
Will my medical insurance cover the visit?
Many insurance companies will cover a dietitian appointment. Check with your insurance provider to determine eligibility for specific diagnoses and scope of coverage. If your insurance company will not pay for the visit or you do not have insurance, our patient financial counselors are available to work with clients regarding fees.