Women's Hospital is Missouri's only hospital offering the most comprehensive women's health care.
Women's Health Center, located within the hospital, provides world-class care to the women of central Missouri in a compassionate and sensitive environment. Learn about women's health care.
Amenities
Parking
Hospital visitors may park free of charge in a surface lot located west of the hospital facing Keene Street. Please contact Office of Patient Experience at 573-882-1053 if you receive a parking ticket in error.
Meals
Oasis, the hospital cafe, is located in the lobby. It offers a wide range of made-to-order items as well as featured daily entrees. Oasis is open 6:30 a.m. to 7:30 p.m. seven days a week, and midnight to 2 a.m. Sunday through Thursday. Visa, MasterCard and Discover are accepted for credit or debit. Personal checks are not accepted at the cafeteria.

Customers have many options, including several grab-and-go sandwiches and salads, and four unique food stations. Find the menus on our food and dining page.

Menu

Nutritional Information
Baby Photos
At Children's Hospital we know kids, which is why we take great pride in helping your family grow. We have partnered with MOM365.com to help you share your wonderful bundle of joy with your family.
Pharmacy
Mizzou Pharmacy-Keene Street is located in front of Women's and Children's Hospital. It is a full-service retail pharmacy offering first aid supplies, breast feeding supplies, over-the-counter medicines and prescription drugs. The pharmacy also has a drive-thru window for your convenience.
Lactation Services
We offer full-time certified lactation consultants to help assist you with breastfeeding, including answering common questions. Learn more about our lactation services.
Gift Shop
The Wishing Well Gift Shop is located in the lobby of Women's and Children's hospital. Merchandise such as cards, flowers, magazines, candy, personal items and gifts may be purchased. Visit the Wishing Well page to learn more.
Activity Rooms
We have Pediatric Playroom and Teen Activity Rooms.
Mail
Letters and packages for patients are delivered each day by volunteers. Letters to patients should be addressed: Patient Name Room Number, MU Children's Hospital 404 Keene St., Columbia, MO 65201. Stamps and stationery may be purchased in the hospital gift shop. Outgoing mail may be given to a volunteer or taken to the nursing station. Upon your child's discharge from the hospital, mail will be forwarded to your home address. Visitors may use the outgoing mail drop box located in the lobby next to the Oasis restaurant. Mail is picked up Monday through Friday.
Visitor Guidelines
Women's Hospital uses visitor badges to help keep our patients, visitors and employees safe. You can get a badge at one of three locations: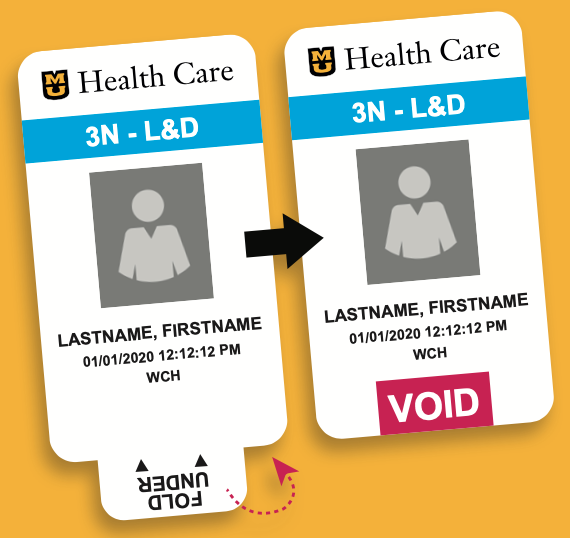 The Women's Hospital information desk (open 24/7/365)
The Women's Hospital Emergency Department (for ED and OB triage patients)
The Keene Medical Building security check station (open Monday through Friday from 6 a.m. to 6 p.m.)
All visitors age 16 and older will be asked to provide a photo ID and have their picture taken. If you don't have a photo ID or do not want your photo taken, please see check-in station personnel.
Each badge is valid for 24 hours, or until you exit the facility. Please wear your badge in a visible location.