A simple gift can brighten a patient's day, and our gift shop in University Hospital can help you bring joy to your loved ones and show them you care.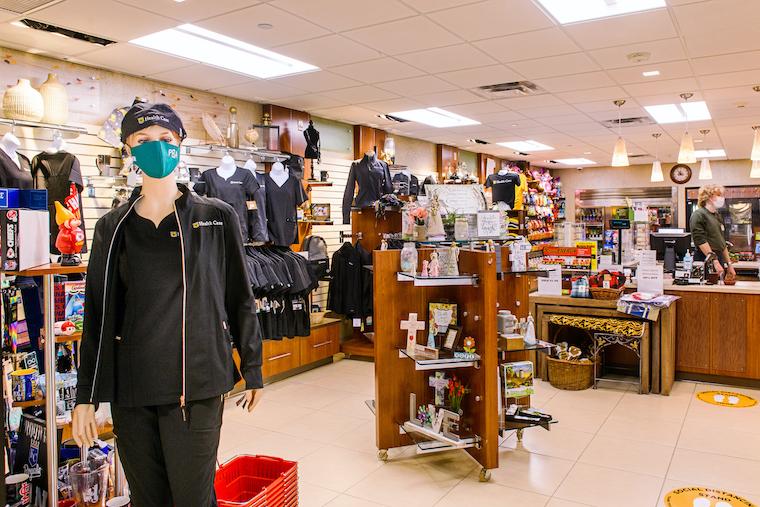 Medtique, our full-service gift shop, offers a wide variety of gifts and other items to make patients feel comfortable and at home, including:
Adult coloring books and colored pencils
Puzzle and activity books
Candy
Colors of cancer jewelry and gifts, including pins, bracelets and key rings
Drinks
Greeting cards
Jewelry
Medical apparel and accessories
Plush items
Seasonal items
Snacks
Other miscellaneous items
Our gift shop staff and volunteers can help you choose the right gift for your friend or family member.
Gift shop location and hours
The Medtique gift shop is located off the main lobby of University Hospital on the same side as the first floor patient tower.
The gift shop is open:
Monday to Friday, 8:30 a.m. to 4:00 p.m.
To learn more about the gift shop, please call 573-884-2550.
Order by phone
If you can't make it to the hospital, you can still order gifts for your loved ones over the phone. To place an order, simply call 573-884-2550. Our staff and volunteers can help you choose a gift for your loved one.
After making your selection, you will be asked to provide your credit card information and the patient's name. We accept MasterCard, Visa and Discover.
Shop online
The Medtique Gift Shop at University Hospital offers a convenient, 24-hour online store to our customers who are unable to visit the hospital gift shop in person. You can order a large variety of items online that will be delivered to your loved one in the hospital.
Gift certificates
If you aren't sure what to buy, a Medtique gift certificate is the perfect gift. Whether it's a gift for a coworker or a patient who needs cheering up, gift certificates can help your friends and family get exactly what they need.
Gift certificates are available in any dollar increment and can be ordered by phone.
Volunteers
Medtique is staffed by generous volunteers. If you would like to join our Gift Shop team, you can read more about volunteering at MU Health Care or contact the manager of Volunteer Services at 573-882-4714.