The best way to keep glaucoma from causing vision loss is to get timely, expert care. The sooner you catch the disease, the easier it is to treat with multiple options.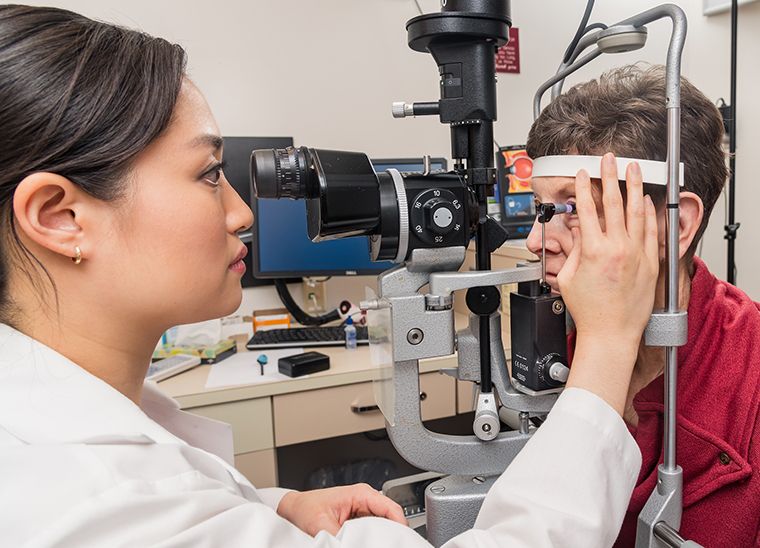 At University of Missouri Health Care's Mason Eye Clinic, we offer mid-Missouri's most advanced care for glaucoma from the region's leading, fellowship-trained doctors. This advanced level of training means you get the highest-quality care and the widest range of treatment choices.
As an academic health center, MU Health Care offers experience and services you can't find anywhere else nearby. Our specialists also lead research to find better ways to prevent, diagnose and treat eye disease. That means you can get the latest treatments, including leading-edge glaucoma therapies, through clinical trials.
Leading glaucoma care
Glaucoma often runs in families, so if anyone in your family has the disease, it's important for you to get checked.
At MU Health Care, our specialists are experts in diagnosing glaucoma. We use leading-edge testing equipment. Your doctor will give you a treatment plan that's based on your individual needs.
Our specialists have the skills needed to do even the most complex eye surgeries. We offer a full range of treatments, including micro-invasive glaucoma surgeries (MIGS) — we're the only center in central Missouri that offers all types of MIGS approved in the U.S. in addition to traditional filtering and tube shunt surgeries.
The latest laser surgeries
Laser surgery uses a focused beam of light to increase the flow of fluid out of the eye, which lowers pressure. The surgery takes place in your doctor's office, and you can usually go back to your normal activities immediately after surgery. There is no activity restriction before or after laser treatments.
We offer the latest, least invasive laser surgeries, including:
Micropulse laser trabeculoplasty (MLT)
Selective laser trabeculoplasty (SLT)
YAG capsulotomy
YAG iridotomy and iridoplasty
Micropulse transscleral cyclophotocoagulation (mTSCPC)
Endocyclophotocoagulation (ECP)
Advanced incisional surgery expertise
Incisional surgery, also called filtering surgery, creates a tiny hole in the white part of your eye to allow fluid to flow out and lower pressure (also called trabeculectomy). In some cases, your doctor places a device (tube or shunt) to keep the hole open and make sure the fluid drains out in the right way. These outpatient procedures mean you don't have to stay in the hospital overnight, but you'll need to avoid some daily activities for a short time after surgery.
Micro-invasive glaucoma surgery expertise
At MU Health Care, our surgeons have performed many different types of micro-invasive glaucoma surgeries (MIGS), which use microscopic-sized equipment and tiny incisions. MIGS offers the most advanced care, safety and much shorter recovery times than standard glaucoma surgeries. This type of surgery can be safely done at the same time as cataract surgery without significant increase in risks or recovery time, and having MIGS won't keep you from getting a traditional incisional surgery in the future if it's needed.
We offer multiple MIGS procedures such as:
Ab-interno trabeculectomy with kahook dual blades (KDB goniotomy)
Gonioscopy-assisted transluminal trabeculotomy (GATT)
Canaloplasty
Schlemm's canal stenting (iStent)
XEN gel stent
No matter how far along your disease is, we offer treatments and services to help — including personal consultations with low-vision specialists to help you live well with limited eyesight.
Related Conditions & Treatments