If you wear glasses or contacts and you still have difficulty reading the newspaper or directions on the side of a box, you have low vision. Low vision can make everyday tasks challenging, and it can prevent you from doing the activities you enjoy.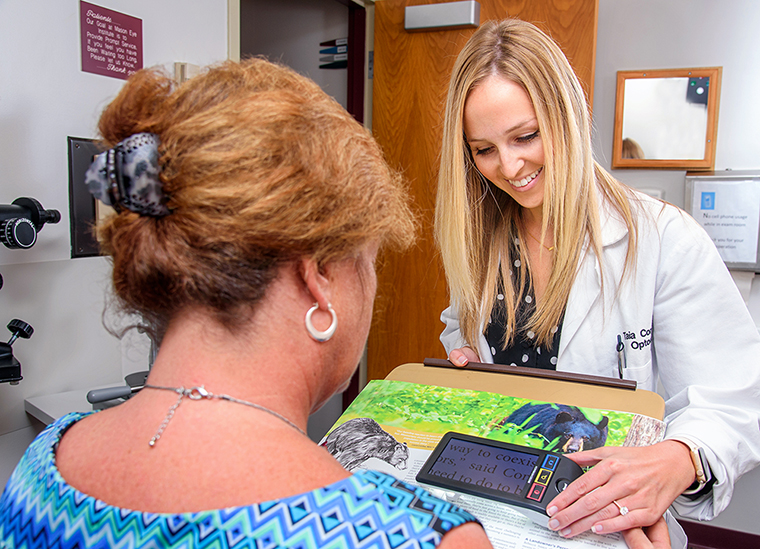 At Mason Eye Clinic, our low-vision specialists offer more than special magnifiers and large-print books. We provide personalized solutions. We consider your environment, your lifestyle, and what's important to you to improve your quality of life.
Comprehensive care for low vision
When you choose MU Health Care, you work with the most experienced eye care team in central Missouri. Our low vision specialists work closely with our ophthalmologists and optometrists to understand your eye health condition. This close collaboration means you get expert advice and solutions to help you maintain your independence.
Here's how we can help.
Personalized consultations
During your low vision exam, you'll:
Learn how environmental factors — such as glare, distance, lighting and contrast — impact your vision and how you can take control of them
Discuss your goals and get personalized solutions to help you achieve them
Learn about visual aids to help you with everyday tasks and activities
You'll learn tips and methods to overcome low vision so you can continue to enjoy what you love. We help you discover ways to overcome all types of eyesight challenges.
Low vision aids
There are a number of devices and products to make tasks easier. During your exam, you'll learn which are right for you.
Types of optical devices include:
Distance-viewing devices (binoculars, opera glasses or telescopes)
Electronic aids (closed-circuit TVs, handheld scanners and portable video magnifiers) 
Magnifying glasses, including handheld and stand magnifiers (rest directly on reading materials)
Magnifying eyeglasses (stronger than ordinary glasses)
Specialty products, such as large-print checkbooks or books
Task lighting (improves lighting and contrast)
Mizzou Optical and Mizzou Optical East, our full-service retail optical store, both sell low vision aids for our patients. Each is conveniently located within Mason Eye Clinic locations at University Hospital and on Keene Street, respectively.
If low vision is interfering with your life, schedule a low vision exam today. We can help you stay independent and continue to do the things you enjoy.
Related Conditions & Treatments