A thoughtful gift can brighten the day of your loved one in the hospital. At the Wishing Well Gift Shop in Women's Hospital, we provide gifts and items to cheer up patients and celebrate new lives.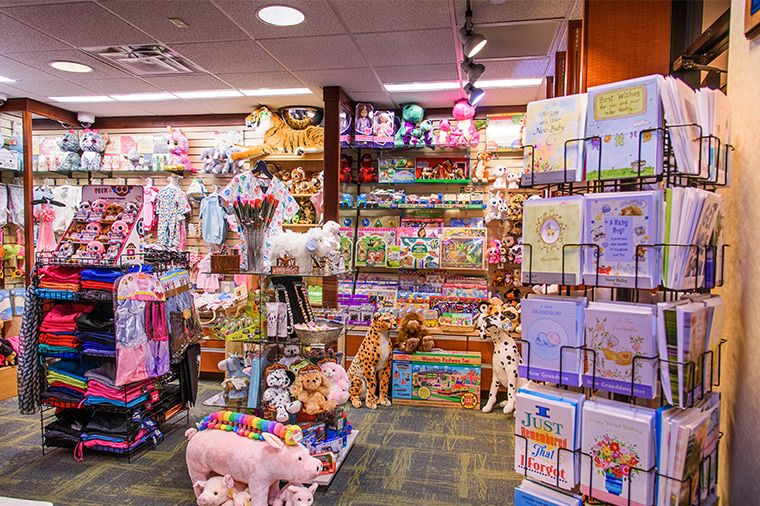 We offer a variety of wonderful gift items, including:
Baby items (numerous pink and blue selections including big brother/big sister t-shirts)
Coloring books, puzzle books and activity books
Melissa & Doug educational toys
Plush, fun toy animals in all shapes and sizes
The volunteers are happy to deliver merchandise to patient rooms. Food items such as gum and candy will not be delivered without approval from the nursing staff.
The gift shop is a wonderful part of the culture of MU Health Care and Women's Hospital. All profits from the gift shop benefit patient programs.
Gift shop location and hours
The Wishing Well Gift Shop is located in the lobby of Women's Hospital.
Open Monday through Friday from 8:30 a.m. to 12:30 p.m. Days and hours may vary.
For more information about the Wishing Well Gift Shop, please call 573-771-9517.
Order by phone
If you can't visit the hospital, you can still purchase a gift over the phone. Please call 573-771-9517 to place an order by phone. We accept MasterCard, Visa and Discover. Our staff and volunteers are eager to help you choose a gift for your loved one.
Shop online
The Wishing Well Gift Shop offers a convenient, 24-hour online store to our customers who are unable to visit the hospital gift shop in person. You can order a large variety of items online that will be delivered to your loved one in the hospital.
Volunteer opportunities
The Wishing Well Gift Shop is run by a group of caring volunteers. We would love to have you join our team. If you are interested in volunteering, please contact the manager of Volunteer Services at 573-882-4714.
Other gift shop location
If you aren't in Women's Hospital, you can still get great gifts at our other gift shop location: Medtique at University Hospital.