When your primary care doctor refers you to Ellis Fischel Cancer Center, you will get more than just caring doctors, nurses and support staff. At the oldest cancer center west of the Mississippi River and the second-oldest in the country, you will receive care at one of the first places in the U.S. to bring together all of the different disciplines to fight against your cancer.
Multi-Disciplinary Teams
Nothing is more important than putting together a team of doctors to help you overcome cancer. Getting surgical oncologists, medical oncologists and radiation oncologists together to map out the best plan for your care if where our physicians start. These are experts with different specialties who share a focus to battle a specific type of cancer. 
A medical oncologist uses medicines to treat cancer. A surgical oncologist treats cancer by removing tumors. A radiation oncologist uses radiation to shrink tumors and prevent them from returning.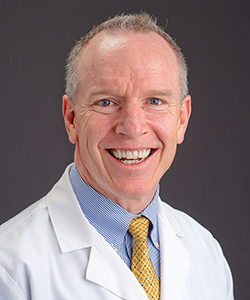 Depending on your type of cancer, you may need one, both or all three approaches to treatment. Kevin Staveley-O'Carroll, MD, PhD, the director of the Ellis Fischel Cancer Center, said research has demonstrated the multi-disciplinary approach is extremely effective at fighting cancer. 
"It's really the integration of these different specialists that gives the patient the best chance for a cure," Staveley-O'Carroll said. "However, this process requires a very sophisticated navigation system." 
Patient Navigation
When patients are referred to Ellis Fischel, they are partnered with a navigator to serve as the point of contact for the patient and referring provider. That navigator will guide the patient through the multi-disciplinary team evaluation to the medical oncologist, the surgical oncologist and the radiation oncologist. There are 10 multidisciplinary disease teams at Ellis Fischel that specialize in different types of cancer. In addition to the doctors and nurses, there are social workers, dietitians, geneticists and supportive care specialists who will play a role in your treatment.
"In cancer, we've probably done the best job in all of medicine to coordinate the different disciplines to work together seamlessly," Staveley-O'Carroll said. "Our teams meet and evaluate every single eligible patient."
Convenience for Patients
As the state-designated cancer center, it is Ellis Fischel's obligation to tailor the multi-disciplinary approach to patients who may not live near Columbia. Patients will get a consultation with the entire multidisciplinary team, but they may receive a portion of the care at a clinic closer to home.  
"A lot of our patients come from two or three hours away," Staveley-O'Carroll said. "So, we work hard with our referring providers around the state and our patients to ensure they can get their medical oncology or radiation oncology care close to home and get the more advanced state-of-the-art surgical procedures or clinical trials at Ellis in Columbia."