If you or a loved one has received a diagnosis of head or throat cancer, you want the best cancer care possible from a team of specialists close to home. At University of Missouri Health Care, our physicians provide patients the most advanced and safest procedures for head and throat cancer.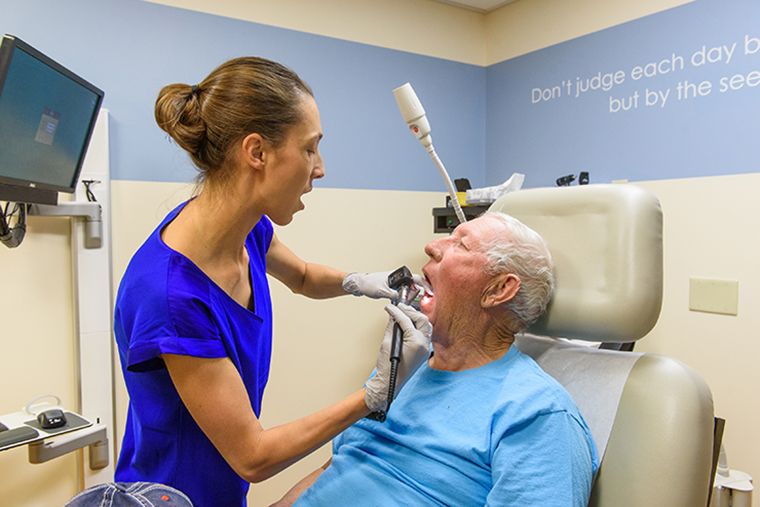 Mid-Missouri's regional head and throat cancer treatment center
MU Health Care's Ellis Fischel Cancer Center provides mid-Missouri with safe, personalized cancer care. We offer comprehensive care for patients with all types and stages of head and neck tumors (cancerous and noncancerous).
This includes (but is not limited to) tumors of the:
Larynx and pharynx
Nasal cavity and paranasal sinuses
Oral cavity
Salivary glands
Skin (large or aggressive skin cancers of the head and neck, including melanoma)
Thyroid and parathyroid glands
Our team of specialists have the resources to care for you through all stages of cancer treatment – diagnosis, tumor staging, treatment and long-term follow-up care – so you don't have to travel far for the most advanced cancer care.
Comprehensive head and throat cancer treatment
At MU Health Care, your cancer care team will include specially trained doctors in:
Dental oncology
Endocrinology
Head and neck surgery
Medical oncology
Pathology
Radiology
Your team will also include speech pathologists, audiologists, social workers and advanced practice nurses. This complete team approach ensures you receive individualized care specific to your needs.
Doctors often treat cancerous head and neck tumors with surgery. However, your cancer care team at MU Health Care will first consider nonsurgical treatment options, including simultaneous radiation therapy and chemotherapy.
You and your doctors will act as a team, discussing every available treatment option to ensure the best possible outcome. Treatment alternatives, such as voice-preserving partial laryngectomy procedures, are also considered when appropriate.
Once your treatment is completed, you will receive follow-up care for at least five years.
Advanced treatment options for head and throat cancer
Advanced treatment options available at MU Health Care include:
Sentinel lymph node biopsy. Our surgical team uses sentinel lymph node biopsy to learn if melanoma, large skin cancers or certain oral cavity cancers have spread to the lymph nodes. This procedure is important in determining an ideal treatment plan and may help some patients avoid major neck surgery to treat the cancer. It is only offered at institutions with extensive experience in the procedure. Our researchers developed the study that moved the National Comprehensive Cancer Network to endorse the use of sentinel lymph node biopsy for oral cancer.
Reconstructive surgery. Specially trained surgeons at MU Health Care perform advanced reconstructive techniques to restore function and minimize disfigurement for our patients after surgery. This often involves transplanting skin, muscle and/or bone from the leg, arm or abdominal wall to the head and neck area.
Complete thyroid and parathyroid care. Endocrinologists, pathologists and surgeons at MU Health Care evaluate cancerous and noncancerous thyroid and parathyroid growths in a single visit. Our pathology team often gives a preliminary diagnosis during this same visit. We use minimally invasive surgery to reduce surgical scarring when possible and rely on imaging techniques, like ultrasound, sestamibi SPECT and 4-D CT scans, for parathyroid localization in patients with primary hyperparathyroidism. We also perform rapid parathyroid hormone assessments during surgery to confirm sufficient removal of abnormal parathyroid glands.
Transoral robotic surgery. Surgeons at MU Health Care have vast experience using transoral robotic surgery to treat certain oropharyngeal cancers. This innovative surgical technique uses a robot (guided by the surgeon) to remove tumors.
Head and throat cancer rehabilitation
Your cancer treatment plan at MU Health Care may also include physical therapy and rehabilitation after treatment. Speech therapy and physical therapy will help restore your ability to speak and swallow and greatly improve your quality of life after treatment.
Trismus speech therapy. Trismus, a temporomandibular joint disorder, is a condition in which the jaw muscles become tighter and tighter and can lock in place. This can make daily activities such as eating, drinking or oral hygiene difficult or impossible. The condition is caused by radiation fibrosis, head and neck surgery or tissue that has been damaged. Our cancer rehabilitation therapists can work with you on personalized exercises to stretch and strengthen your jaw muscles to help reduce tightness. This therapy usually lasts for four to eight weeks, and a physician referral is required. 
Head and throat cancer clinical trials
As an academic health system, MU Health Care has access to the very latest in cancer research, including clinical trials. In some cases, clinical trials give our patients more treatment options, which may lead to better outcomes.
Related Conditions & Treatments