The University of Missouri Health Care Administrative Fellowship Program is a two-year program focused on management experience. It provides each Fellow the opportunity to apply specific graduate study principles in a practical work setting — a fully integrated health care delivery system.
The Fellowship is guided by senior leaders from MU Health Care who are committed to providing a premier learning experience to foster future health care leaders. Fellows are exposed to a wide variety of current and challenging administrative issues and can test both interests and skills in various disciplines.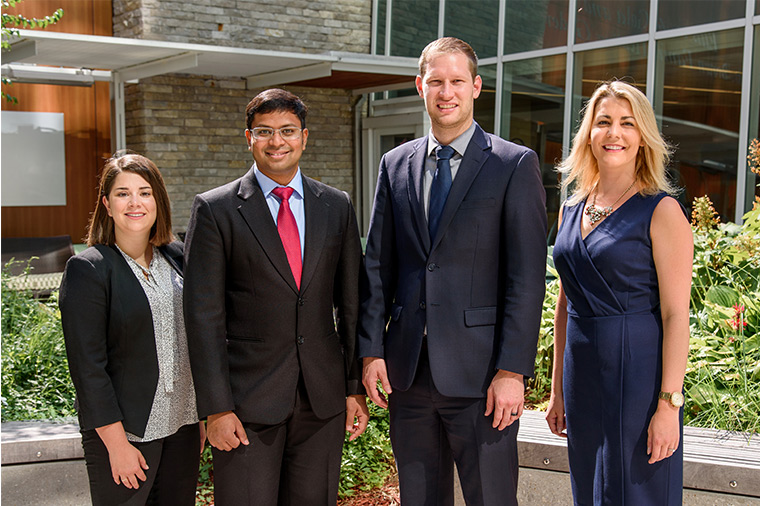 Year one of the Administrative Fellowship
During year one, Fellows participate in function-specific rotations in:
Business Planning/Marketing
Finance
Operations
Quality/Safety/Patient Experience
During each three-month rotation, fellows will work alongside key leaders to enhance mastery of crucial competencies.
Year two of the Administrative Fellowship
During year two, Fellows can participate in rotations such as:
Analytics
Community Affiliations
Human Resources
Network Development
Operations
Tiger Institute
Customized rotations can be created based on areas of interest. As a Fellow, you'll also have the opportunity to lead major projects that are critical to the vitality of the health system. Finally, Fellows can apply the skills learned during rotations and project work in interim management assignments, when appropriate.
Fellowship duties
Fellows may have specific duties such as:
Demonstrate customer service and patient safety values that are key to providing high quality service to patients and guests
Conduct statistical, financial, operational and other analyses to support management proposals and decisions
Provide project assistance to multiple areas of hospital operations, including inpatient services, ambulatory care, quality improvement initiatives, financial planning and business development
Manage projects as assigned within the hospital
Apply performance improvement methodologies to drive results with rapid Plan-Do-Study-Act (PDSA) cycles
Complete departmental rotations to gain broad exposure and knowledge of operational workings while simultaneously being introduced to a network of contacts
Remain up-to-date with trends and innovations in health care service delivery and finance
View the application requirements for more information about our Administrative Fellowship.
Why work at MU Health Care?
MU Health Care consistently receives recognition as a leader in providing high-quality, innovative health care services. MU Health Care received the designation as one of Missouri's first Level I Time Critical Diagnosis Stroke Centers, the highest recognition a hospital can receive for its stroke program.
MU Health Care is also a leader in the development and provision of leading-edge health care services by offering the Mizzou BioJoint℠, a breakthrough in the field of orthopaedic surgery. In 2014, the United Health System Consortium awarded MU Health Care the UHC Quality Leadership Award for demonstrated excellence in patient care.
In 2015, MU Health Care received the global HIMSS Enterprise Nicholas E. Davies Award of Excellence for health care technology innovations that are improving patient outcomes. Also, for the seventh consecutive year, MU Health Care was recognized as one of the nation's "Most Wired" health systems in 2017 for its leading edge health care information technology.
Professional partnerships
MU Health Care, whose mission is to advance the health of all people through exceptional clinical service, helps improve health care access for Missourians through its membership in the Health Network of Missouri (HNM). A collaborative network of six health care organizations, HNM's goals are to improve health outcomes, share health care best practices, improve patient access, ensure coordinated patient care among various providers and create efficiencies that lower health care costs.
In an effort to improve health care quality and clinical integration in the region, MU Health Care is also a member of MPact Health, a multi-state Clinically Integrated Network (CIN) comprised of over 3,000 physicians and 49 hospitals. MPact Health allows physicians and hospitals to work together on clinical integration, quality improvement, and contracting, ultimately leading to quality improvements and innovation in each geographic market.
A great place to live and work
Located in central Missouri, Columbia is home to the University of Missouri and is consistently ranked nationally as one of the most desirable places to live. This city combines the quality and culture of larger metropolitan areas with lower housing costs, excellent schools and beautiful neighborhoods. Through innovations in health care management and health care provision, MU Health Care aspires to also make Columbia, Missouri, a medical destination for exceptional health care services.