When Boonville residents Holwell and Kasey May began thinking about starting a family, they faced a couple big decisions. They wanted to find an obstetrician who would be a partner, not just a provider, and they wanted a hospital that would respect their wish to have as natural a childbirth experience as possible.
"I did a lot of research and asking around," said Kasey May, 26. "The more I realized that we wanted to go that natural route, the more I confirmed my decision that Women's and Children's was the place to be."
Kasey particularly liked that Women's and Children's Hospital was working toward the Baby-Friendly® designation, which signifies that a hospital takes steps to ensure babies and mothers get off to the best start possible.
After the Mays decided where they wanted to deliver, they focused on finding an obstetrician. They visited Jacqueline Ruplinger, MD, a family physician at MU Health Care and an associate professor of family and community medicine at the MU School of Medicine, on the recommendation of a friend who had two babies under Ruplinger's care.
Ruplinger said her philosophy is simple. "It's my job to see what the parents want as a birth experience and then to talk to them about their options," she said. "It's such a special time and such a special experience — it's a miracle. You want that to be memorable and safe and you want everything to go perfectly."
The power of choice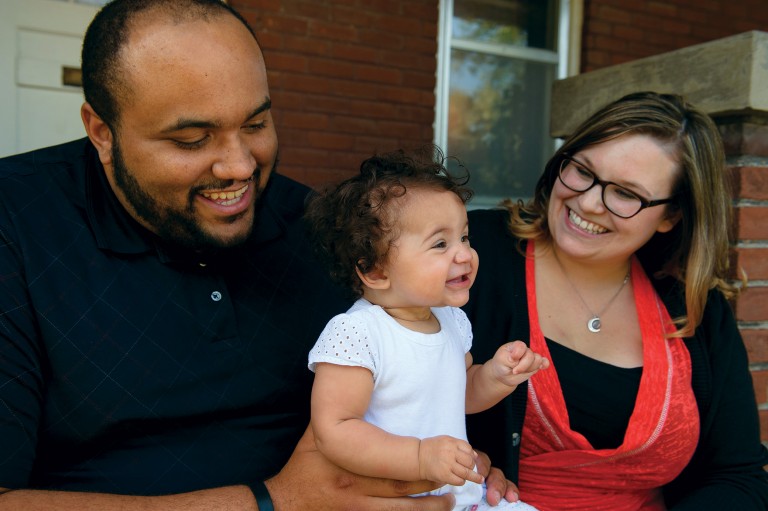 Kasey wanted a natural childbirth experience, but she knew that plans can change once labor starts. She called her birth plan a birth guide to acknowledge that fact.
A central part of her strategy was to surround herself with a lot of support. Her husband accompanied her to every prenatal appointment to ensure he was ready, and they enlisted a doula (a person who assists a woman during childbirth) to further strengthen their birth team.
"When we were admitted, they wrote my doula's name on the board, and she was part of the process," Kasey said. "They were very respectful of that."
Kasey's husband and doula helped her make choices as they were presented by the Women's and Children's Hospital staff. At one point, when her labor wasn't progressing, she was asked if she wanted to have her amniotic sac ruptured.
"I wanted to wait, and they were fine with that," Kasey said. "And just five minutes later my water broke on its own, so that was great."
Kasey ended up choosing some medical interventions, including an epidural injection for pain relief and Pitocin, a synthetic hormone given to stimulate contractions, but those were conscious choices, she said.
"I never felt pressured. It was always, 'Here are your options. It's up to you,' " she said. "It was never on their clock. It was always, 'How do you feel about this?'" Holwell said that approach helped make the experience less stressful for everyone.
"There was never really any pressure," he said. "It was really nice because there is a lot of stress already as it is."
The more I realized that we wanted to go that natural route, the more I confirmed my decision that Women's and Children's was the place to be. Kasey May
The Baby-Friendly® approach
Ruplinger delivered Gwen on Feb. 16, 2015. Gwen was 7 pounds, 9 ounces and 20 inches long. She was born on her due date, and the family immediately began bonding.
"We loved that right after I delivered her, she was right to my chest," Kasey said. That's one of the tenets of the Baby- Friendly® approach. A baby goes right to her mother's chest after birth, and staff members help mothers initiate breastfeeding within one hour of birth.
Women's and Children's Hospital also promotes "rooming in," which means mothers and infants remain together 24 hours a day. Ruplinger said that's been one of the biggest changes in obstetrics since she became an obstetrician in 1991. Previously, babies were separated from their mothers shortly after birth for routine procedures. Then they were separated from their mothers each morning when they were taken to the nursery for their daily examination.
Now, routine exams are performed in the rooms with parents.
"Everything was done right there in the room, and that was great," Kasey said.
Ruplinger said that allows doctors to talk to parents and educate them while they check on the babies.
"It's really an educational opportunity," she said.
Kasey said all the nurses and staff members were "wonderful."
"They were all so patient, kind and encouraging," she said. "And you could tell they cared about us. The nurse that we had all day during labor tried to stretch her shift out to be there for my delivery, but she just couldn't stay. The next day, she made sure to stop by our room in postpartum to meet Gwen and congratulate us. It made our day."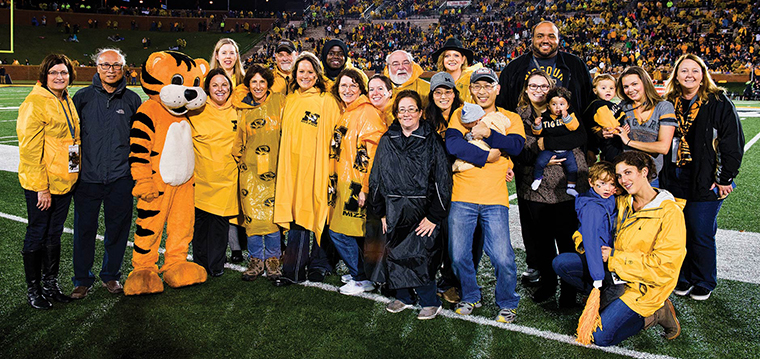 Continuing Care
Although the May family had a great start in the hospital, mother and daughter experienced some trouble with breastfeeding at home. Kasey had taken a lactation class led by Lori Lampe, RN, IBCLC, while she was pregnant and thought she was "totally prepared." But, she said, she wasn't ready for the challenges.
"Breastfeeding is so much harder than you think it's going to be," Kasey said. "The first week we struggled with a good latch."
Gwen lost some weight and was hospitalized for a weekend to recover from dehydration. Kasey also experienced mastitis, a painful infection of the breast tissue, and a yeast infection caused by the antibiotics used to treat the mastitis.
"It was really just a difficult time," she said. "But Lori was instrumental in helping us."
Lampe suggested supplements to help increase milk production and different feeding positions to improve Gwen's latch. Lampe even involved Holwell. She made a finger syringe that he could use to feed Gwen breast milk that his wife had expressed using a pump.
"During that time, I saw her weekly because she had challenges that she didn't expect, but she was educated and motivated that she could work through these with support," Lampe said.
It wasn't easy, but when Kasey looks at Gwen, healthy and happy and well-fed, she knows it was worth it.
"It took us three months to get in a good place with our breastfeeding relationship," Kasey said. "The biggest thing was just being really dedicated. And in the end, it paid off."
Baby-Friendly designation
In 2015, Women's and Children's Hospital became the fourth hospital in Missouri and the only hospital in central Missouri to earn the Baby-Friendly® designation from the World Health Organization (WHO) and the United Nations International Children's Emergency Fund (UNICEF). To receive the designation, the medical team completed and must continue to follow 10 steps that promote and support best practices for mother and baby care. If a mother decides not to breast-feed, the staff supports her decision and provides the best feeding options for the infant's needs.
Local Resources for Families
Breast-feeding class
Lori Lampe, RN, IBCLC, a lactation consultant, leads a breastfeeding classes at Women's and Children's Hospital. The class is held from 7 to 9 p.m. at Women's and Children's Hospital.
For more information or to sign up for a class, please contact Women's and Children's Hospital at 573-499-6175
Lactation consultant
To help ensure a successful breast-feeding experience, the MU Pediatrics clinic at South Providence Medical Park in Columbia offers lactation consultation services.
For an appointment, please call the clinic at 573-882-4730.
Tiger Tot Mommies
Each Tiger Tot Mommies meeting is free and features a topic for expecting or new mothers. The topic of the next meeting will be midwives and doulas. It will be held:
5:30 to 6:30 p.m. Thursday, Feb. 4, at Women's and Children's Hospital Conference Center
10 to 11 a.m. Wednesday, Feb. 10, at the South Providence Medical Park's second-floor conference room
Get more details at muhealth.org/tigertot.