At University of Missouri Health Care, you have access to more than 500 highly trained specialists who are here to help you improve your health and quality of life. We strive to find new solutions to your health problems, designing treatment plans specific to your individual needs.
As an academic health center, we offer unique services not available anywhere else in the region. Our specialists care for even the most complex and serious conditions using advanced technology, the collective experience of our physicians and the latest research to guide your treatment.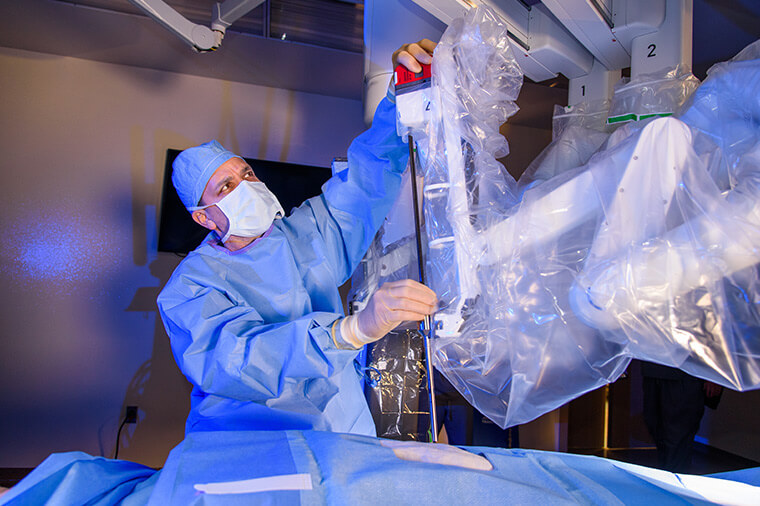 From neonatal intensive care to immediate heart attack treatment, Level I trauma care to the region's only hospital dedicated to orthopaedic care, MU Health Care gives you access to the treatment you need, right here in Columbia and in clinics across mid-Missouri.
Our specialty services include:
Groundbreaking research and advanced treatments
If you have a serious medical problem or need treatment for a specific medical disorder, you want a hospital that's dedicated to that condition. At MU Health Care, you'll find help, expertise and hope.
Our physicians conduct advanced research so you receive breakthrough treatments that aren't widely available at smaller hospitals. Their groundbreaking studies have led to pioneering advances such as three new, FDA-approved cancer treatments, over 100 device patents and many leading-edge technologies.
Physicians at MU Health Care offer innovative solutions to health problems, from using your own body's own immune system to fight cancer to establishing a regenerative joint center using technology only available at the Missouri Orthopaedic Institute. Our multidisciplinary teams use their own research, as well as the latest medical evidence, to create your care plan, which may include clinical trials, new medicines or the latest surgical techniques.
Specialized care throughout Missouri
Our specialists are dedicated to helping our patients receive the health care they need. Through outreach clinics, we provide specialty care across Missouri. You can see cardiologists, orthopaedic surgeons, oncologists and other specialists at locations close to your home so that taking care of your health is easy and convenient.
We have outreach clinics in more than a dozen towns, including:
Boonville
Fulton
Hermann
Jefferson City
Kirksville
Macon
Marshall
Moberly
Osage Beach
Sedalia
Sikeston
Springfield
Versailles
When you need a surgical procedure or advanced treatment, receive care right here in Columbia with your friends and family close by for support. We take care of all of your health needs, big or small, so you won't have to travel far from home.