The Mizzou Therapy Services Orthopaedic Physical Therapy Residency Program provides post-professional clinical and didactic education.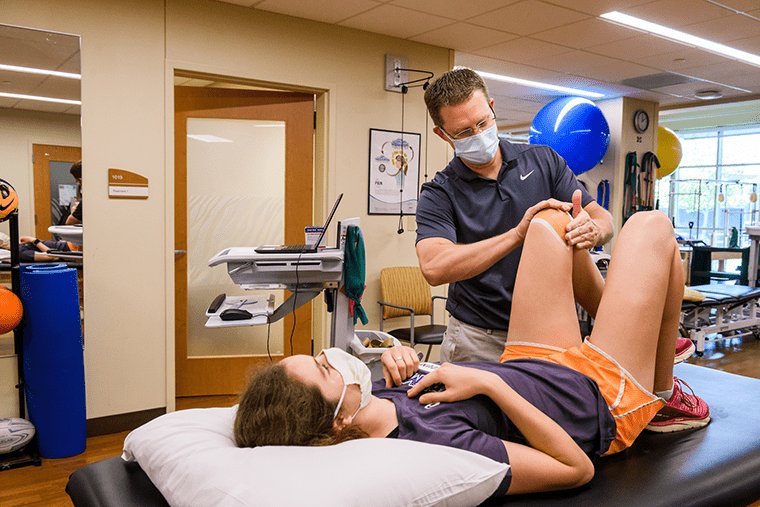 Through ongoing clinical supervision and mentoring with a theoretical basis for advanced practice and scientific inquiry, you will improve your clinical practice and decision-making. The program stresses the acquisition of current best-evidence as well as leading-edge psychomotor skills to make you a specialist in the area of orthopaedics.
Goals
Our program goal is to help you:
Grow as a practitioner skilled in orthopaedic physical therapy.
Become a skilled practitioner who can care for patients with musculoskeletal conditions.
Gain a strong base of knowledge of evidence-based practice, orthopaedic manual therapy techniques, advanced medical screening and radiology.
Be positioned to achieve the Orthopaedic Certified Specialist (OCS) certification from the ABPTS and to be a leader in the orthopaedic physical therapy field.
Training sites
Residents train at the Mizzou Therapy Services-Forum location in Columbia, Missouri. The program is part of University of Missouri Health Care, the region's only academic health center. Among the benefits of being part of Missouri Orthopaedic Institute and MU Health Care:
Monthly therapist-directed sports medicine meetings
Bi-weekly physician directed sports medicine meetings
Opportunity to be involved in research with physical therapy faculty
Orthopedic grand rounds
Physician shadowing
Surgery observation
Advanced technology such as blood flow restriction therapy, Dartfish video motion capture and more
Clinic structure
Thirty-six (36) direct patient care hours
Four (4) hours per week to work on residency coursework during work hours
Example schedule: 10 a.m. to 6 p.m. Monday-Thursday, 2:15 p.m. to 6 p.m. Friday
Patients are scheduled every 45 minutes. Evaluations are 45 minutes. Average patient load per day is 8-12.
Education structure
One hundred fifty (150) hours of direct 1:1 clinical mentorship
Fifty (50) hours of direct observation of clinical mentor evaluating and treating or 1:1 education
One hundred (100) hours of resident leading patient care with clinical mentor
One hundred (100) completed FOTO discharges
Clinical mentor evaluations at 20, 50, 100, and 150 hours
Two live patient initial evaluation examinations (1 spine, 1 extremity)
Online learning (See Evidence In Motion for details)
Weekend intensives
Four (4) weekend courses spread out through residency coordinated with management courses for upper, lower extremity, lumbopelvic and cervical/thoracic courses
Mizzou Therapy Services does not provide funds for travel or hotel costs for these courses.
See Evidence In Motion for a full list of core coursework, topic coursework and mentioned clinical practice.
How to apply
The first step to apply to the Orthopaedic Physical Therapy Residency is to apply for a resident position at MU Health Care. If you are interested, you can find application information here:
The resident position receives the normal entry level physical therapist salary minus the cost of tuition ($13,500). The resident position has full benefits, including vacation and health insurance. Learn more.
Start dates: Second Monday in July (summer cohort) or second Monday in September (fall cohort)
After you are accepted into the resident position, we will assist you in applying for the residency program through Evidence In Motion.
EIM admission requirements
All applicants must have successfully completed a CAPTE-accredited professional physical therapy curriculum or have had a state physical therapy board approve the applicant's first postprofessional physical therapy program as "equivalent" to a U.S. CAPTE-accredited physical therapy program.
All applicants must provide a copy of a current and valid license to practice physical therapy in one of the 50 United States, Canada, the District of Columbia, Puerto Rico, or U.S. Virgin Islands. This license must be in good standing.
All residents must carry professional liability insurance. This can be a personal policy or company policy.
If English is not the applicant's native/first language, specified language proficiency requirements must be met.
All residents must be active members of the APTA.
All residents must have current CPR certification.