The University of Missouri Neurologic Physical Therapy Residency aims to create leaders and innovators in the field of neurologic physical therapy.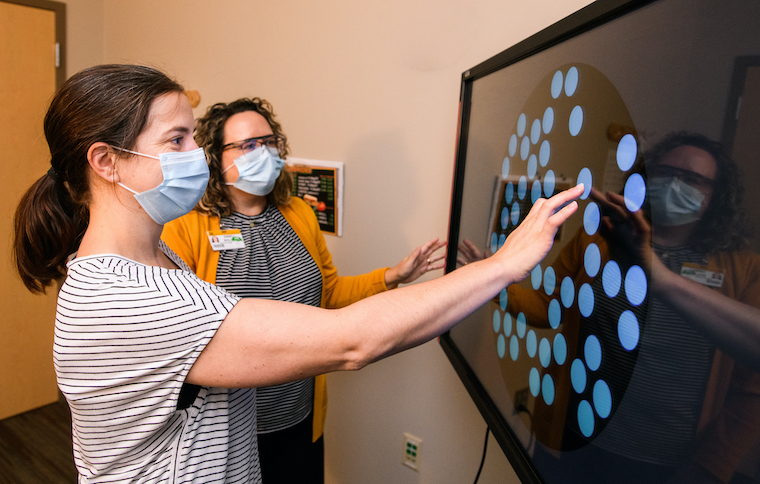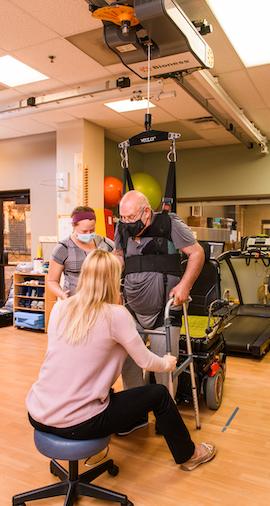 What Sets Us Apart:
Live didactic content
Acute care experience at a Level 1 Trauma Center
12 weeks hands on experience in inpatient rehabilitation
Intentional coaching format for mentoring designed to create life-long learners
Integrated learning experiences with PM&R Residents
Teaching experiences in entry-level DPT program
Mentorship in clinical teaching skills
Mission
To improve the lives of patients affected by neurologic disease by developing expert neurologic physical therapists via advanced teaching, research, and clinical experience, and offering a post-professional residency program maintained through ongoing continuous improvement.
How Does Residency Set You Apart?
Intentional focus on treatment of neurological patients over the course of a year allowing for eligibility to sit for board certification.

Clinical experience in variety of settings

Guided learning experiences

Development of metacognitive skills (self-awareness, critical thinking, reflection) for life-long learning

Teaching experience and mentorship in didactic education

Skill development in clinical research

Experience implementing knowledge translation projects

Leadership skills
Training Sites
Neuro Center at Mizzou Therapy Services-Business Loop

University Hospital

Rusk Rehabilitation Hospital, a joint venture of Encompass Health and MU Health Care
Multi-Disciplinary Clinical Enrichment Experiences 
Multi-disciplinary clinics

Dizzy clinic
ALS clinic
Botox clinic
Muscular dystrophy clinic
Return stroke clinic
EMG Clinic

Research project with physical therapy faculty

Teaching Experiences

Clinical instructor at Physzou pro bono clinic
Teaching Assistant for Neuro Course for University of Missouri Physical Therapy Program
PM&R grand rounds
Journal club

Shadowing Experiences
Mizzou Therapy Services' Children's Therapy Center
Physician Rounding- Inpatient Rehabilitation
Human Performance Program including Rock Steady Boxing
Vestibular Function Testing with Audiology Department
Curriculum
Week 1: Residency Orientation
Week 2: Preparing for a Successful Residency Experience
Week 3: Who Am I as a Learner?
Week 4: Asynchronous Content: Evidenced Based Practice Application & Expectations (Knowledge Translation)
Week 5: Asynchronous Content Neuro-Exam 101
Week 6: Teaching and Learning Part I
Week 7: Teaching and Learning Part II/ Motor Learning for Our Patients
Week 8: Professional Development Check in with Residency Leadership/ Statistics 101
Week 9: Labor Day Independent Study
Week 10: Outcome Measures in Neurological Rehab
Week 11: Clinical Reasoning and Expert Practice
Week 12: Independent Study and Research Training (Citi)
Week 13: CVA Pathophysiology and Clinical Presentation
Week 14: EBP in CVA (Early Mobilization)
Week 15: Independent Study/ KT Project Planning
Week 16: Secondary Impairments in CVA and Cognitive and Perceptual Deficit Considerations
Week 17: TBI Pathophysiology & Clinical Presentation
Week 18: Independent Study
Week 19 Leadership & Conflict Management
Week 20: Thanksgiving Independent Study
Week 21 EBP in TBI & Management of the Minimally Conscious Patient
Week 22: Orthotic Decision Making
Week 23: Objective Gait Measures (Gait Lab)
Week 24: Independent Study
Week 25: Midterm Examination
Week 26: Demystifying Concussion
Week 27: BG Disorders Pathophysiology
Week 28: MLK Independent Study
Week 29: EBP in BG Dysfunction
Week 30: Peripheral Nerve Dysfunction (GBS/CIDP)
Week 31: Vestibular Disorders Presentation and Evaluation
Week 32: Vestibular Disorders EBP Treatment
Week 33: Independent Study/ CSM Attendance
Week 34: SCI Pathophysiology and Clinical Presentation
Week 35: EBP in SCI
Week 36: Secondary Impairment Prevention in SCI
Week 37: Assistive/Advancing Technology in Neurological Rehab (shadowing with assistive technology specialist and observe complex rehab seating clinic for wheelchairs)
Week 38: Independent Study Spring Break
Week 39: Multiple Sclerosis
Week 40: ALS
Week 41: Health Condition Supplementation/Independent Study
Week 42: Health Condition Supplementation/Independent Study
Week 43: Pediatrics Considerations Across the Lifespan
Week 44: Neuropsychological Assessments (shadow)
Week 45: Independent Study
Week 46: Orthopedic Considerations
Week 47: Sleep Matters
Week 48: Pain Neuroscience
Week 49: Research Wrap-Up
Week 50: Independent Study
Week 51: Final Exam
Week 52: July 4th Holiday W
eek 53: Graduation/Reflection
Week 54: Final Week
Research Experiences
One on one mentoring in clinical research to include access to Mizzou Motion Analysis Center, case study design, and implementation science/knowledge translation projects.

Minimum of 10 hours of research experience

Resident able to select individualized tailored projects of their area of interest
Teaching Experiences
Clinical instructor at PhysZOU pro bono clinic

Teaching/Lab Assistance in the University of Missouri's Entry-level DPT Program

Present at PM&R Chairman Rounds

Lead Resident Monthly Journal Club
Program Structure
Twelve-month, two-week duration

Thirty-two (32) direct patient care hours/week

Eight (8) hours per week to work on residency coursework, research and teaching experiences

Students will rotate between outpatient neuro (30 weeks), acute care (12 weeks) and inpatient rehabilitation (12 weeks)
Clinical Mentoring
More than 200 hours of direct 1:1 clinical mentorship

More than 100 hours of direct observation of clinical mentor evaluating and treating or 1:1 education

More than 100 hours of resident leading patient care with clinical mentor
Admission Requirements
All applicants must have successfully completed a CAPTE-accredited professional physical therapy curriculum or have had a state physical therapy board approve the applicant's first post-professional physical therapy program as "equivalent" to a U.S. CAPTE-accredited physical therapy program.

All applicants must provide a copy of a current and valid license to practice physical therapy in Missouri or a state that is part of the PT Compact.  This license must be in good standing.

All residents must have current CPR certification.

Submit official PT school transcripts

Be an active member of the American Physical Therapy Association and of the Neurology section

Submit curriculum vitae or resume

Submit three letters of recommendation

Complete short answer questions on why the resident is pursuing a Neurologic Residency.

The resident must intend to sit for the exam to become a Board Certified Neurologic Physical Therapist.
How to Apply
The University of Missouri Neurologic Physical Therapy Residency enrolls two residents per year. If you are interested, you can find application information here:

Apply Here

Application cycle opens October 1 and closes January 31.

The resident position is salaried and benefit eligible. Learn more.

ABPTRFE Program Financial Fact Sheet

Start date: Second Monday in July

After acceptance into the resident position, we will assist you in applying for the resident employment position through University of Missouri Health Care.
Residency Program Completion Rate
| Year | Completion Rate | First Time NCS Pass Rate |
| --- | --- | --- |
| 2022 | 100% | 100% |
| 2023 | 100% | Eligible for Testing 2024 |