There are many paths to having a baby, and MU Health Care's infertility team is here to help guide your journey.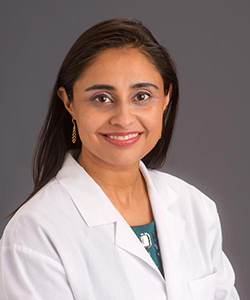 At your first appointment — the fertility consultation — your doctor will ask about your medical history and how long you have been trying to conceive.
"Fertility consultations are a full hour, so there is plenty of time to share your story and talk through all the details," said Shvetha Zarek, MD, a reproductive endocrinologist with MU Health Care. "If it sounds like you would benefit from fertility treatment, we would then outline several treatment options you could pursue and talk about the pros and cons of each."
Zarek said selecting a fertility treatment is more of a personal decision than a medical decision.
"During the consult, our goal is to help you understand what's going on and guide you toward next steps that suit your personal needs and goals," she said. "In addition to verbally discussing treatment options, we provide patients with informational handouts and handwritten notes they can take home with them to review."
Zarek recommends bringing your partner or a close confidant to your appointment and asking him or her to take notes.
"It is great if both members of a couple can be there to contribute to the conversation and ask questions," she said. "If you do not have a partner, or he or she is not available, try to bring a close friend or relative — someone you trust who can serve as a second set of ears."
Zarek wants patients to leave their fertility consultation feeling educated and comfortable.
"I want my patients to walk away feeling like they received expert advice from someone who was honest with them," she said. "A fertility consultation is not an easy discussion, and the news patients hear isn't always positive. But I strongly believe it is possible to leave feeling good and confident."