Although 22 million Americans experience some hearing loss, only 30 percent of them use hearing aids. At University of Missouri Health Care, we offer the latest hearing aid technology to accommodate your hearing loss and help you better communicate with family and friends.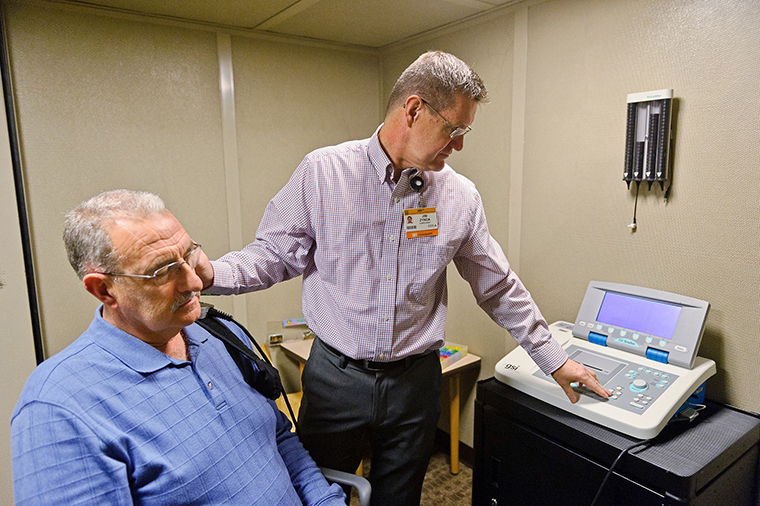 If you suspect you suffer from hearing loss, your first step should be to undergo a thorough hearing evaluation and medical examination. A certified audiologist can perform a hearing evaluation, while your primary care physician or an ear, nose and throat (ENT) physician provides your examination.
If you are concerned about hearing loss, make an appointment with an audiologist and ear, nose and throat (ENT) doctor by calling MU Health Care's ENT, Hearing and Balance Center at 573-882-HEAR (4327). Insurance usually covers this appointment. Check with your insurance provider for coverage information.
Hearing aid evaluation
If your hearing evaluation indicates that you need a hearing aid, you will be scheduled for an appointment where an audiologist will discuss which hearing aid options would be most appropriate for you. 
Sometimes testing is done to determine which hearing aid most effectively enhances your level of hearing. 
If a hearing aid is necessary, an audiologist will:
Explain the hearing aid process
Make impressions of your ears, if necessary
Schedule a return appointment to fit you with hearing aids
Hearing aid fitting
At the time of the hearing aid fitting, your audiologist will:
Discuss hearing aid care and maintenance
Demonstrate how to operate the hearing aid properly
Explain effective communication techniques for you, your family and significant others
Describe the adjustment period expectations and limitations of hearing aid use
Evaluate your hearing while you are wearing the hearing aid
Follow-up care
Routine follow-up care is recommended for hearing aid patients. Adults should return annually; children should return every six months. 
During the follow-up appointment, your audiologist will:
Evaluate your hearing to determine if it has changed
Check the hearing aid for proper operation
Assess how much you benefit from the use of the hearing aid
Counsel you, your family and significant others about hearing aid use
Hearing aid repair services
After a period of use, your hearing aid may need maintenance. The audiology staff can:
Change the earmold tubing 
Clean the earmold and hearing aid
Repair hearing aids
Replace the earmold
You may also purchase hearing aid accessories, such as batteries, Dri-Aid jars, battery testers, cleaning tools and wax guards.
We offer a walk-in clinic where our staff is able to take care of smaller repairs such as replacing wax filters and tubing or changing battery doors. However, more complicated services such as programming or replacing an earmold may require an appointment, and repairs will require manufacturer assistance.
Program fees
Fees vary depending on the type and style of hearing aid you choose. You are responsible for the cost of the following:
Hearing aid
Hearing aid fitting
Earmold
Follow-up hearing aid care and repair once the warranty has expired
Contact your insurance provider for coverage information. Please note that Medicare and most adult Medicaid programs do not pay for hearing aids or professional fees required for hearing aid appointments. If you need help arranging payment, please contact a patient account representative at 573-882-2141.
Assistive listening devices
Assistive listening devices (ALDs) are used to alleviate certain listening problems caused by a hearing loss. 
The three main types of ALDs are:
Alert/alarm devices
Amplification devices
Telephone devices 
The MU Health Care ENT, Hearing and Balance Center can recommend a full line of assistive devices for your needs. The clinic offers a variety of programs and services related to hearing problems.