As we make the transition to our centralized campus over the next three years, one of the first changes is in our emergency services.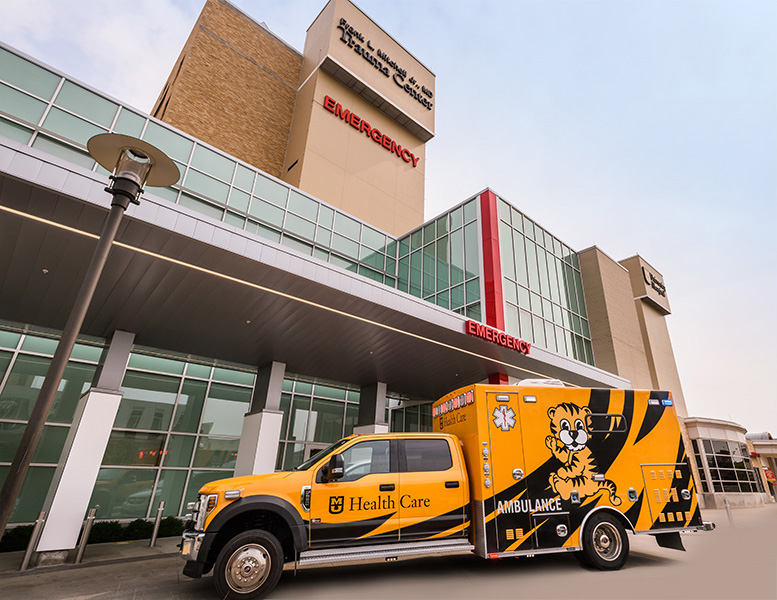 Emergency care for kids
Our emergency room for kids has relocated to University Hospital, offering the same expert care in a new and expanded kid-friendly space. This new space has been designed just for kids with fun décor and easy access to our Children's Hospital amenities, including our child life services and facility dog.
As the only Children's ER in the region, our doctors are board-certified in pediatric emergency medicine, meaning they have undergone years of training to be experts in caring for acutely ill or injured children in an emergency room. This new space will allow our team to offer an even more seamless experience with better access to the resources and specialists located throughout our main hospital campus.
Learn more about emergency care for kids.
Emergency care for pregnant women
At this time, we are only moving our pediatric services. Our obstetrics and NICU services will remain at Women's and Children's Hospital until our new facility opens in 2024. Pregnant women needing emergency services should continue to seek care at Women's and Children's, which will be renamed to Women's Hospital during this transition.
Emergency care for other adults
All other adults should continue going to the emergency room at University Hospital.
The move of our emergency room for kids to University Hospital is one of the first steps toward creating a centralized hospital campus that will include a brand-new Children's Hospital, a Birthing Center and more. The project will last through 2024. Learn more about the project and timeline.