A new Women's Imaging Center at University of Missouri Women's and Children's Hospital offers convenient, one-stop imaging services for patients at the hospital at 404 N. Keene St.
MU Health Care staff, along with members of the Columbia Chamber of Commerce, celebrated the opening with a ribbon-cutting today, Oct. 4, in the main lobby of MU Women's and Children's Hospital.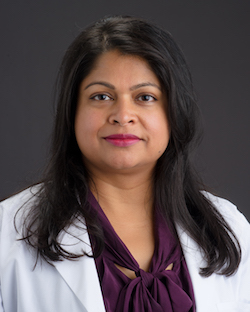 "The new Women's Imaging Center consolidates breast imaging and bone densitometry services at Women's and Children's Hospital into one convenient location near the main lobby," said Megha Garg, MD, an associate professor of radiology at the MU School of Medicine and chief of breast imaging at Ellis Fischel Cancer Center. "Previously, these services were located in different areas of the hospital."
Services provided at the Women's Imaging Center include:
2-D/3-D screening mammography
Diagnostic mammography for women experiencing symptoms that may be related to breast cancer
Mammography- and needle-guided localization for minimally invasive biopsy
Breast ultrasound
Ultrasound-guided biopsy
Diagnostic bone densitometry
"Women's and Children's Hospital worked with Ellis Fischel Cancer Center to consolidate women's imaging services at our hospital," said Keri Simon, executive director of Women's and Children's Hospital. "We appreciate their help to make comprehensive imaging services easy and convenient for our patients."
October is National Breast Cancer Awareness Month, prompting Garg and Simon to encourage women to remember the importance of annual breast health screenings.
"Self-examinations are important, but they aren't enough," Garg said. "Mammograms can detect a lump two years before you feel it and can increase one's breast cancer survival rate by 30 percent. The exam takes approximately 15 minutes. It's easier than ever for a woman to have this life-saving screening at Women's and Children's Hospital, Ellis Fischel Cancer Center, South Providence Medical Park or Ellis Fischel's mobile mammography van."
To schedule a mammogram, please call (573) 882-8511.