Breastfeeding might be natural, but it isn't always easy.
Whether a new mother has questions about increasing her milk supply, pumping at work or finding the most comfortable way to hold her baby, the lactation consultants with MU Health Care can help steer her in the right direction.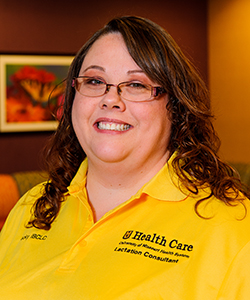 It's never too early or too late to schedule a consultation.
"Lactation education begins with pregnancy and continues throughout the breastfeeding journey," said MU Health Care lactation consultant Becky Weider, LPN, IBCLC. "We are here to help women at any stage."
Lactation consultants provide one-on-one sessions, lead group breastfeeding classes and also attend Tiger Tot Mommies meetings.
The group classes, held twice monthly at Women's and Children's Hospital, offer a relaxed atmosphere for expecting mothers and their partners to ask questions, get advice and share their experiences with their peers.
"It is helpful to have a list of questions written out ahead of time," said MU Health Care lactation consultant Lori Lampe, RN, IBCLC. "That way, we can be sure to cover every relevant angle during your sessions."
While breastfeeding will provide some of the most cherished moments of motherhood, challenges can pop up. No two babies are exactly alike, so even experienced mothers can benefit from a lactation consultant's guidance.