If you or a loved one requires emergency surgery or critical care for a severe trauma, burn or acute surgical illness, you are in good hands at University of Missouri Health Care.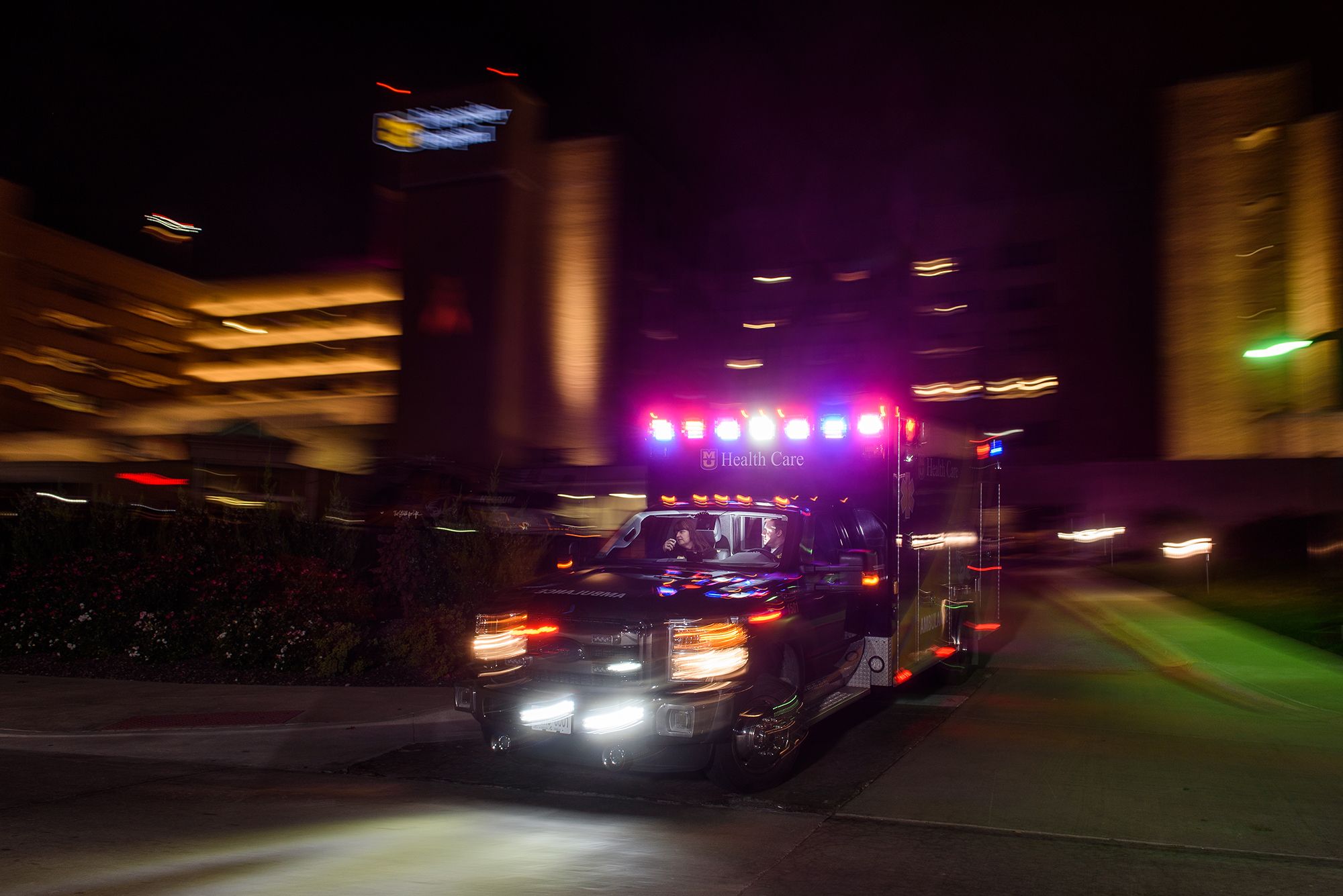 Our Frank L. Mitchell Jr., MD, Trauma Center, central Missouri's only Level I Trauma Center verified by the American College of Surgeons, means we meet and exceed the highest standards of care for the most critically injured patients.
MU Health Care's acute care surgeons are experts in:
Emergency surgery
Trauma care
Critical care medicine
Elective general surgery
Burn treatment
Whenever possible, our team uses minimally invasive techniques to perform acute care surgery.
What is an acute care surgeon?
An acute care surgeon is a general surgeon with added qualifications in emergency surgery and critical care medicine.
Leaders in acute care surgery
MU Health Care Health is a leader in acute care surgery. Our multidisciplinary team provides:
Patient care
Outreach education
Medical student and resident training, including Accreditation Council for Graduate Medical Education (ACGME)-approved fellowship positions in surgical critical care and burn
Our faculty members are also active in both clinical and basic science research. In addition, our team incorporates best practices from combat casualty care in Afghanistan and Iraq. By applying these lessons learned to civilian care, we significantly improve patient outcomes for serious injuries and illnesses.
Emergency surgery
Emergency surgery is any general surgery that is urgent in nature and performed on very sick patients. We offer the same surgical procedures as general surgeons; however, because our patients are so ill, these surgeries are not elective—they are emergencies.
For example, if you have a tumor on your pancreas, the growth will likely be removed during a scheduled procedure by a surgical oncologist or a surgeon who specializes in cancer treatment. However, if your pancreas is seriously infected, an acute care surgeon will perform emergency surgery to remove dead tissue and fluid buildup.   
Emergency surgery includes:
Appendectomy (removal of the appendix)
Colon resection (removal of all or part of the colon, often for cases of diverticulitis)
General thoracic surgery (surgery for chest wall, esophagus and/or lungs)
Pancreatic necrosectomy (surgery to remove dead tissue and fluid from an infected pancreas)
Perforated ulcer repair (surgery to treat bleeding ulcer in the esophagus, stomach or intestines)
Small bowel obstruction surgery (surgery to remove a blockage in the intestines)
Our surgeons maintain an active general surgery practice and are available for urgent inpatient and elective outpatient consultations.
Trauma surgery
We have a dedicated team of surgeons available at a moment's notice, around the clock, all year long to address surgical emergencies.
Our acute care surgeons provide care for trauma, including injuries related to:
Car accidents
Falls
Intentional and unintentional injury
We treat:
Head injuries
Fracture
Severe bleeding and internal organ injury
Critical care medicine
At MU Health Care, our surgeons have added qualifications as surgical intensivists, meaning they are specially trained to treat the most critically ill patients after surgery. Our surgical intensivists see all patients in our 14-bed intensive care unit (ICU) where most are recovering from trauma, major surgery or severe burns.
Elective general surgery
Our surgeons handle more than just emergency cases. They also perform elective general procedures, such as:
Gall bladder surgery
Hernia surgery
Colon surgery
Endoscopy
Burn treatment
If you experience a serious burn, you need specific care from highly trained burn specialists. Our acute care surgeons provide surgical and medical treatment for severe thermal injuries, or burns.
Related Conditions & Treatments