Spine conditions or injuries can be debilitating, preventing you from walking or even standing without experiencing pain. The spine specialists at University of Missouri Health Care can help you overcome spine conditions so you can enjoy an active life.
The Missouri Orthopaedic Institute is the only hospital dedicated solely to orthopaedic care in the region. We offer complete spine care in one place — including imaging, directed spinal injections, inpatient and outpatient back surgery, chiropractic care and physical therapy. We know how difficult it can be to experience spine problems, so we make care easy and convenient for you every step of the way.
Get expert spine care
Our team of experts include spine surgeons, non-operative spine specialists such as chiropractors and physiatrists, physical therapists and more to work with you to develop a personalized treatment plan to improve your spine health. Patients from across Missouri and the Midwest visit our experienced spine specialists for innovative treatment.
When you receive care at an academic health system such as MU Health Care, you have access to the latest research and treatments for spine problems. Our spine team investigates and conducts new research into spine disorders and designs your care plan based on the most recent medical evidence. Our physicians strive to improve the future of spine care through advanced research and by teaching the next generation of doctors.
Our spine surgeons also work closely with trauma surgeons at our Level I Trauma Center to deliver fast care for severe spinal injuries. We treat serious spinal fractures and spinal cord injuries, providing long-term care and rehabilitation help to restore movement and function.
Personalized treatments just for you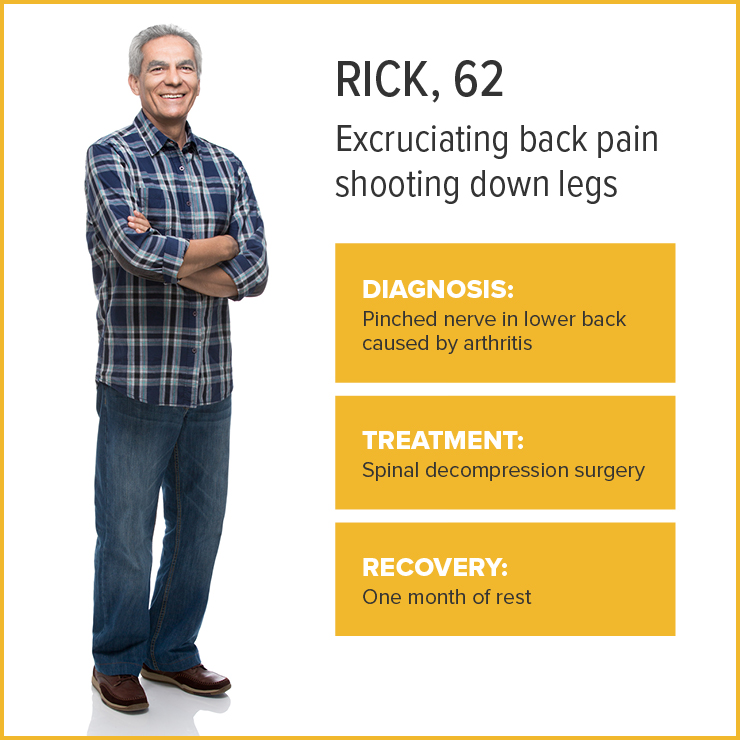 Your personalized treatment plan might include surgical or nonsurgical solutions to back problems. Your care team works with you to determine which treatments are right for you, such as medicines, physical therapy, back surgery or bracing. You'll may need a combination of these treatments to enjoy improved spine health and function.
Spine injuries and conditions we treat
At MU Health Care, we offer comprehensive treatment for a broad range of spine injuries and conditions. We treat everything from muscle injuries to fractures to arthritic deformities. We're also leading the way in treating back conditions that radiate pain into an arm or leg. We have a wide array of specialists who can treat the common spine injury to the most complex, including:
Herniated disks
Kyphosis
Low back pain
Neck and spine arthritis
Neck pain
Osteoporosis
Pinched nerves (radiculopathy)
Sciatica
Scoliosis
Spinal cord compression
Spinal deformities in children and adults
Spinal fractures
Spinal infections
Spinal stenosis
Spinal tumors
Spondylolisthesis
Spondylolysis
Surgical vs. nonsurgical treatments
Our team works with you to develop a safe and personalized plan, which might include surgical or nonsurgical treatments. Generally, we start with medications or physical therapy for short-term back pain and problems. If those treatments don't reduce or eliminate back pain, we consider more advanced treatments, such as spinal injections or surgeries. No matter what level of care you need, our Comprehensive Spine Center offers treatment options.
Often, back pain can be resolved without surgery. Nonsurgical options let you get back to living your life pain-free without worrying about healing after surgery. Our team of experts can identify what's causing your pain and how we can help. Resting your back, managing pain with medications like ibuprofen, or icing your back after an immediate injury may be recommended. We have multiple nonsurgical treatment options to alleviate chronic back pain, including chiropractic care, physical therapy and more.
For some patients, surgery may be an option to reduce or eliminate back pain. Our spine surgeons are board-certified and trained to perform surgery for both routine and complex spine procedures. Whether you need interventional treatments such as pain block, fixing a broken vertebra or removing a cancerous tumor, we're here to help get you back on your feet. We are one of a handful of sites in the nation that performs vertebral body tethering (VBT) in children to treat scoliosis. Spine surgery requires a doctor's referral and requires patient to be in good health to minimize risks. Patients must attend our spine surgery education camp.
Access to advanced technology
At MU Health Care, we use leading-edge technology to provide you the most advanced treatment options. Whether it's advanced image navigation, which provides 3D images for precise treatment, electrodiagnostic testing, or fluoroscopy, a type of image-guided X-ray that gives a real-time view of spinal injuries or conditions, our experts can diagnosis and treat problems affecting the delicate tissue, bone and tendons in and around the spine. As an academic health system, we also participate in clinical trials, giving our patients access to the newest treatment options and largest treatment team in mid-Missouri. Our doctors are also researchers and are the forefront of breakthroughs in spine care. We're able to translate our research directly to patient care, providing innovative treatments unavailable at other institutions.
Related Conditions & Treatments