If you or your child has an illness or injury that would benefit from aquatic (water) therapy, we can help. At University of Missouri Health Care, many of our aquatic therapy patients tell us that they experience no discomfort or pain during pool therapy — and they even enjoy it.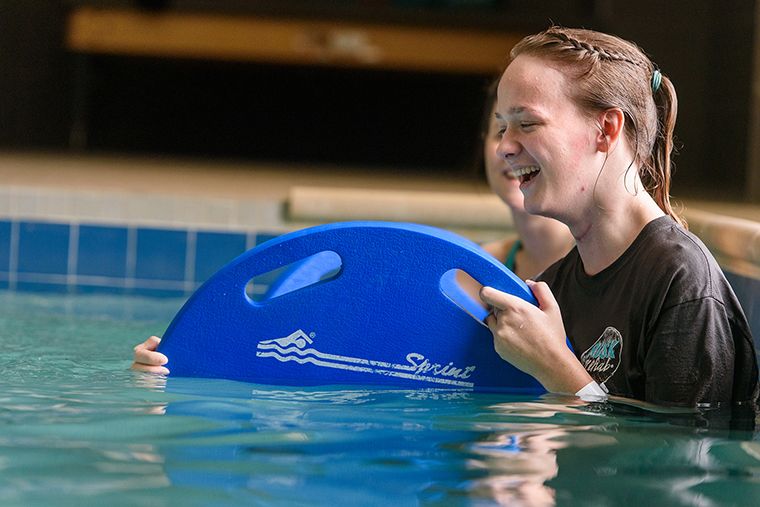 Aquatic therapy has several health benefits and is often used in conjunction with land-based physical therapy to maximize results.
Benefits of aquatic therapy
Water provides resistance, weightlessness and additional sensory input, which is helpful in regaining function and range of motion. Because the water puts an equal amount of pressure on the body, it can challenge balance and equilibrium responses.
Other benefits include:
Decreased pain sensitivity
Improved morale and confidence  
Increased cardiovascular function
Increased circulation, endurance, flexibility, range of motion, balance and coordination
Muscle relaxation
Stimulation of body awareness, balance and trunk stability
Who is a candidate for aquatic therapy?
Our therapists use water-based therapy to treat several conditions, including:
Arthritis
Chronic pain
Fibromyalgia
Injuries
Post-surgery recovery
Our children's therapists use water therapy to improve motor skills in children with:
Autism 
Cerebral palsy
Developmental delays
What to expect from aquatic therapy?
You will first be evaluated on land. If your therapist determines water therapy is appropriate for you, you will likely:
Undergo weekly water therapy sessions for eight to 10 weeks.
Take a break from aquatic therapy and practice the skills you developed in the water on land for eight to 10 weeks.
Return to the pool for additional therapy.
Our rehabilitation facility
Adult and pediatric patients undergo water therapy in Rusk Rehabilitation Hospital's therapy pool.
The pool features:
Benches
Different depths of water, up to seven feet
Steps
The water is kept at a warm 92 degrees and water jets help provide pain relief and resistance. Therapists will lead you in your exercises.
Safety is our top priority, so we equipped the pool with the following:
Cord pulls
Floatation devices
Neck rings for children