Your veins and arteries do important work, delivering blood throughout your body. 
At University of Missouri Health Care, our expert vascular surgeons provide comprehensive, minimally invasive treatments to help keep your blood vessels healthy. Our nationally renowned vascular surgeons have the skills and expertise you need when facing vascular diseases.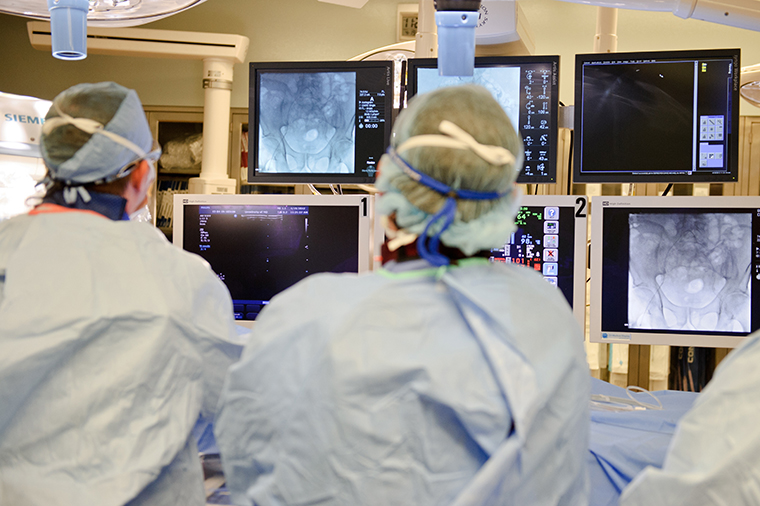 We can help you with a wide range of vascular conditions and services, including:
Aortic and peripheral aneurysms
Cerebrovascular and carotid disease
Dialysis access
Mesenteric or visceral ischemia (poor blood flow to the intestines)
Peripheral vascular disease 
Thoracic and abdominal aortic aneurysms
Varicose and spider veins
Vascular problems in the kidney
In many cases, vascular surgery is used to open up blocked or narrowed blood vessels that affect your blood flow. Poor blood flow can cause serious medical conditions. However, vascular surgery can also be used to strengthen blood vessels or remove damaged vessels. Vascular surgeons also help create ports, openings in veins or arteries that are used to provide treatment like dialysis or chemotherapy. 
Advanced vascular care
As providers at an academic health center, MU Health Care physicians are researchers who stay up-to-date on the latest treatments. As one of our patients, you have access to the latest medicines, clinical trials and procedures to improve your vascular health. Our expert surgeons also teach the next generation of vascular surgeons through residency and fellowship training.
Our vascular surgery team performs procedures in an advanced hybrid operating room. Our surgical suites can function as both minimally invasive catheterization labs and traditional operating rooms for open surgeries, giving you all the care you need in one place. 
We offer comprehensive treatments, including:
Open or traditional vascular surgery
Minimally invasive endovascular surgery
Non-invasive or diagnostic testing
During vascular surgery, our surgeons repair your blood vessels to restore blood flow. Depending on your condition, the vessels may be cleared of plaque build-up, widened to allow more blood flow, held open by a stent, closed off from blood flow or even removed. The ultimate goal with each surgery is to promote healthy blood flow using the most minimally invasive procedure possible.
Benefits of vascular surgery
MU Health Care vascular surgeons use the latest techniques and tools to perform surgical procedures. 
These minimally invasive surgeries offer many benefits over traditional open surgeries, including:
Faster recovery time
Less pain
Lower risk of bleeding
Lower risk of infection
Our vascular surgeons also use tools that can lower your exposure to radiation. Though vascular surgeries commonly require the use of X-rays to see veins and arteries, our doctors use specialized Ocelot catheters. These thin catheters have tiny, lighted cameras on the end, reducing the need for X-rays. Ocelot catheters also allow our physicians to remove dangerous, large blood clots, called chronic total occlusions, with the use of a small drill. By using these advanced tools, we help more patients achieve greater outcomes with fewer risks as compared to traditional surgery.
Related Conditions & Treatments