If you or a loved one needs help regaining the ability to perform daily activities following a serious illness or injury, you have come to the right place.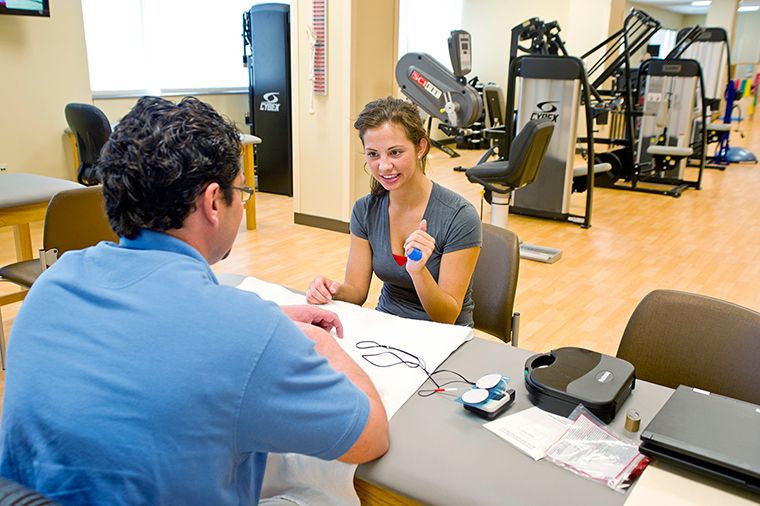 At University of Missouri Health Care, our occupational therapists are experts in addressing deficits with your movement, arms, vision, cognition (brain function), balance and self-care tasks. We're here to help you achieve your goals while improving your functional capabilities and quality of life.
Our occupational therapists provide excellent patient care. Working closely with other members of your medical care team, they help you recover and perform self-care tasks so that you can function at your highest potential. Our experts consider your individual needs, abilities and environment, to help you successfully transition to home or the next level of care.
Occupational therapy services
We offer a complete range of occupational therapy services. Depending on your unique circumstances, occupational therapy may focus on helping you regain one or more of the following:
Ability to perform daily activities, including dressing, bathing, grooming, feeding and using the toilet
Cognition and understanding
Coordination and balance
Developmental therapy
Energy conservation and joint protection
Hand-eye coordination
Job skills
Leisure pursuits and hobbies
Neurodevelopmental skills, including neuromuscular electrical stimulation
Processing skills
Sensory integration
School performance
Upper extremity (arms) range of motion, strength, sensation and impairments
Vestibular rehabilitation to improve balance
Vision improvement
We also offer:
Adaptive equipment and wheelchair evaluation and recommendations
Augmentative and alternative communication (AAC)
Cognitive communication disorder therapy
Durable medical equipment and adaptive equipment recommendations and training, such as braces, compression and TheraTogs treatments
Visual processing evaluations and training
Work environment modification and recommendations
Our specialty treatment programs, such as aquatic therapy, astronaut training, interactive metronome therapy, and zones of regulation help provide evidence-based occupational therapy in unique settings or within a structured plan to offer the best possible benefits for recovery.
Hand therapy
All our occupational therapists specialize in hand therapy and rehabilitation, including:
Acute injury treatment
Bracing
Handwriting therapy
Splinting
Home safety recommendations
We also provide home safety recommendations to help you smoothly transition to life at home after an illness or injury. We work with you to prevent falls and accidents, as well as to make your daily tasks easier to complete.
Outpatient occupational therapy
Occupational therapists work with patients who have neurological, orthopaedic and general medical diagnoses. Our therapists have a good understanding of the connection between your needs, abilities and environment. This helps with your successful transition to the community and your ability to resume previous home, work and leisure activities.
To help you transition back to everyday life, the Mizzou Therapy Services — Business Loop clinic offers an apartment with a full-functioning kitchen to help you re-learn or practice daily skills.
Related Conditions & Treatments