If you need help to regain mobility, movement, balance or strength following an injury or illness, we can help. The highly trained and skilled physical therapists at University of Missouri Health Care Mizzou Therapy Services provide excellent care to our patients using the latest treatment methods and equipment.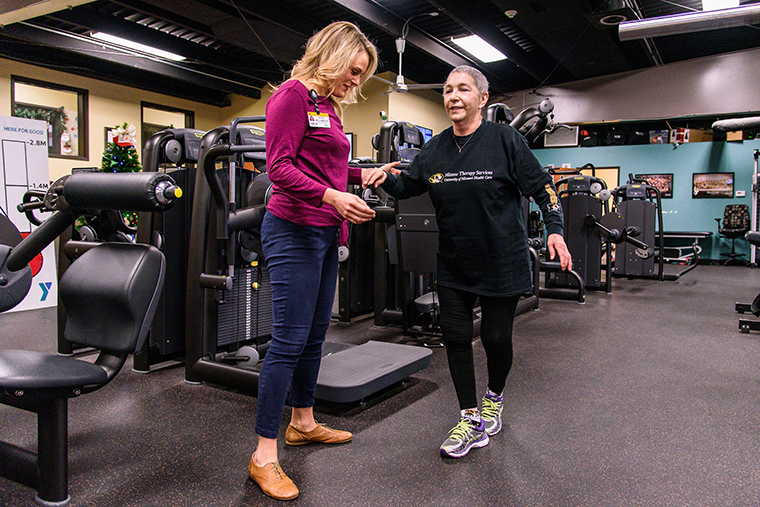 Whether you are recovering from an injury, experiencing a painful condition, learning how to prevent future injuries, maximizing your athletic performance or rehabilitating after surgery, our team of therapists will help you reach your goals and improve your quality of life.
What is physical therapy?
Physical therapists (PTs) work closely with other members of your medical care team to restore and improve mobility and motion so you can function at your highest potential. PTs have a good understanding of the connection between your needs, abilities and environment, which assists in your successful transition to your home, community or next level of care.
Our team of therapists provides exceptional patient-centered outpatient physical therapy with a focus on sports medicine, orthopaedic, neurologic, pelvic floor and women's health services.
Our physical therapists work closely with our referring physicians to develop an evidence-based team approach to the treatment of injuries and various conditions. You'll receive a thorough initial evaluation as well as an individualized plan of care to meet your specific goals during one-on-one sessions with your therapist.
Physical therapy services
Our physical therapists specialize in treating four of the body's major systems:
Musculoskeletal. This includes the body's bones, cartilage, connective tissue, joints, ligaments muscles and tendons.
Neuromuscular. This refers to all of the muscles and related nerves in the body.
Cardiovascular/pulmonary. This includes blood, blood vessels, bronchi, heart, lungs and trachea.
Integumentary. This includes the exocrine glands, hair, nails and skin.
Conditions we treat
We provide physical therapy services related to a variety of medical conditions, such as:
Joint problems (shoulder, elbow, hip, knee, ankle and foot)
Mobility and balance impairments
Neck and back pain
Neurologic diagnosis such as chronic spinal disorders, stroke, brain injury, or spinal cord injury
Orthopaedic rehabilitation
Recovery after surgery
Sports or athletic injuries
Specialized Therapy Treatments
Some of the treatments we provide are completed through unique physical therapy programs, including:
Aquatic therapy, physical therapy that's completed in the water.
Developmental therapy is a play-based therapy that integrates conceptual skills, motor skills, language skills and social-emotional skills.
Fascial counterstrain or myofascial release is a hands-on therapy to find and fix fascial dysfunction.
Functional electrical stimulation (FES) uses neuromuscular electrical stimulation through functional activities, sometimes in products such as Bioness, WalkAide and FES bikes.
Gait trainer evaluations of assistive devices and equipment to help our patients become more independent with walking
Gross motor treatment improves on age-appropriate skills, such as rolling, crawling, walking, jumping and skipping.
Intensive strengthening program trains or retrains the brain and body to work together through repetitive movement patterns and exercises.
LiteGait treatment offers patients support while standing or walking. The device is used over the ground or a treadmill during therapy sessions.
Lower and/or upper extremity orthoses, or braces, our therapists work with to find the best fit.
Motion analysis uses technology to record the movement of our patients, allowing for a detailed evaluation.
Neurodevelopmental treatment (NDT) is a hands-on treatment approach that enhances the function of our patients who have difficulty controlling movement because of neurological challenges. NDT uses guided or facilitated movements as a treatment strategy to ensure correlation of input from receptors within the body.
Neuromuscular electrical stimulation uses a device that safely sends electrical impulses to nerves and causes muscles to contract. The electrical stimulation can increase strength and range of motion and is often used to retrain a muscle and to build strength after a surgery or period of disuse
Pediatric pain management ensures our patients pain in controlled during and after therapy sessions.
Pressure mapping uses a special pad that is placed between the seat cushion and a patient's buttocks. A digital reading of pressure information appears on the computer screen, identifying any high-risk areas for sores or ulcers to develop.
Resistance training is a form of exercise that improves muscular strength and endurance of our patients by moving their limbs against resistance provided by their body weight, gravity, bands, weighted bars, dumbbells or exercise machines.
Serial casting is a non-surgical way to reduce muscle tightness around a joint or improve a contracture. The casts are changed on a weekly basis until a target range-of-motion goal is achieved.
TheraSuit provides proprioceptive feedback – produced and perceived stimuli movements – and aligns the body as closely to normal as possible via a soft orthosis consisting of a cap, vest, shorts, knee pads and shoes that are connected to each other through a system of elastic bands. Re-establishing the correct postural alignment plays a crucial role in normalizing muscle tone and improving sensory and vestibular function for patients.
Theratogs is an orthotic undergarment and strap that gives our patients with a sensorimotor impairment a way to improve posture, stability and movement.
Therapeutic compression uses a garment to apply pressure that improves stability and decreases movement disorders.
Treadmill training improves walking patterns and increases endurance, cardiovascular strength, walking speed, balance and weight-bearing.
Universal exercise unit training uses a metal grid structure with pulleys, weights and bungee cord attachments to strengthen and elongate muscles. This system also allows for completion of activities in functional positions.
Vestibular rehabilitation is an exercise-based program to improve balance and reduce problems related to dizziness and inner ear dysfunction.
Wheelchair assessment, fitting and training evaluates our patient's posture and positioning in a wheelchair. We also work to improve ability to move more independently in a wheelchair, as well as transferring in and out of the wheelchair.
Whole body vibration transfers vibrations to the body for therapeutic benefit.
Related Conditions & Treatments