On a Thursday night just like any other, Jenny Morgan, mother of two, sat in her living room in Westphalia, Missouri. Cuddled up in a chair, she thumbed through a magazine while her children, ages 2 and 4, slept.
"I wasn't consciously doing a breast exam," said Jenny, then 36. "But I was feeling around and felt a little lump. I initially thought it might be a clogged milk duct, but it didn't hurt like a clogged duct normally would."
Jenny called her husband, James Morgan, over and asked him to feel it.
"Am I nuts, or do I feel something right there?" she asked.
She wasn't nuts.
After a preliminary screening near her home in Jefferson City, Jenny received an MRI and biopsy at Ellis Fischel Cancer Center. Less than a week later, she was diagnosed with Stage 2 ductal carcinoma (breast cancer) in January 2014. At approximately 1.5 centimeters wide, the tumor that Jenny discovered was roughly the size of a pea.
"In an instant, my world turned upside down," she said.
After speaking with experts at Ellis Fischel Cancer Center and weighing her options, Jenny made the difficult decision to undergo a double mastectomy to reduce the risk of the cancer returning. Following the procedure, she underwent five months of chemotherapy at Harry S. Truman Memorial Veterans' Hospital, a U.S. Department of Veterans Affairs (VA) medical facility in Columbia.
"I loved my doctors at the VA," Jenny said. "If there were any resources that weren't available for me at the VA, they sent me to Ellis Fischel where I met wonderful nurses — many of whom I still talk to regularly."
Dawn Frederick, RN, a breast cancer navigator at Ellis Fischel, is one of those nurses.
"From the moment I met Jenny, I knew that she had spunk," Dawn said. "She's one of the most focused, determined women I have cared for in my career as a nurse, and she's a wonderful ambassador for women's health."
"My new life mission is educating women on self-exams. My motto is, 'A breast self-exam saved my life, and it could save yours, too. Don't put it off.'"
Teaching the importance of self-exams
Jenny credits the discovery of her tumor to education she received while serving in the United States Navy.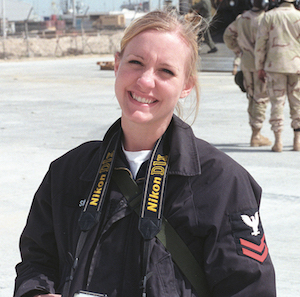 Jenny Morgan learned about breast self-exams in the Navy, and now she is on a mission to educate others.
"When I was in the Navy, they passed around a fake breast with seeds in it," Jenny said. "We were supposed to feel around and find the seeds. That was probably the best training I've ever had on self-exams."
Unlike Jenny, many women do not receive training.
"My new life mission is educating women on self-exams," Jenny said. "My motto is, 'A breast self-exam saved my life, and it could save yours, too. Don't put it off.'"
As one way of fulfilling that mission, Jenny hosts an annual event with the help of friends and family. The fundraiser for small, local breast cancer charities is named "Doe's Night Out — The Breast Party in Town." Held on the first night of deer hunting season in Loose Creek, Missouri, the party includes not only a dinner and silent auction, but also education. With nurses on hand from Ellis Fischel Cancer Center to answer questions, women perform breast self-exams.
Dawn said she looks forward to helping with Doe's Night Out each year as a fun way to educate women about the importance of self-exams and raise money for women who could otherwise not afford mammograms.
"As moms, we're busy taking care of everyone else," Jenny said. "We often take the back burner ourselves and skip an appointment here and there. Statistically, women my age are not supposed to get breast cancer. I kept delaying my annual OB/GYN visit, and if I hadn't found my lump through a self-exam, I don't know where I'd be right now."
For Jenny, raising her children — daughter Millie is now 4 and son Carter is 6 — is not something she is willing to give up without a fight.