When you have a severe medical illnesses, paying attention to your body and getting to know your true self is important. A simple, yet powerful, way to do this is through yoga and meditation.
"Because of the individualized nature of illness, everyone is going through their own medical journey," Keeley Michael, a yoga therapist at MU Health Care said. "Practicing yoga can target both the physical and emotional journey — helping to minimize and eliminate stressors."
Through a new class taught at MU Human Performance Institute, patients can practice yoga and meditation in a group setting with others affected by medical illness. The class links gentle movement with breath work and guided meditation to help patients improve pain management.
"When you meditate, you're able to focus your mind, so you're not controlled by your thoughts," Michael said. "This helps patients reduce anxiety and manage their pain."
Consistent yoga practice increases strength and flexibility, improves sleep and pain management, and provides relief from stress and anxiety. In addition to the benefits of yoga practice, Michael said the class empowers patients to take part in their healing.
"This class is all about helping patients find their new normal," Michael said. "Group classes are meant to be therapeutic and build an intimate sense of community."
In addition to group classes, which take place four times per week, Michael also offers one-on-one instruction. These sessions are based on individual needs and capabilities. Together, patients and Michael develop an at-home yoga practice that can adapt over time to meet the patients' changing needs.
Group classes take place on Wednesdays and Fridays from 8:30-9:30 a.m. and on Tuesdays and Thursdays from 12:15-1:15 p.m. Cost is $30 per month for unlimited group sessions. Hour-long private sessions are $30 per session and can be done in your home. Patients are welcome to attend with a physician referral. For more information, visit muhumanperformance.com or call 573-777-4417.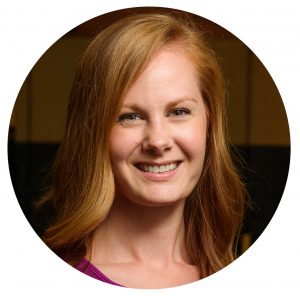 Meet your yogi
Name: Keeley Michael
Yogi Since: 2010
Married: Husband Nick is a Mizzou Men's basketball team strength and conditioning coach
Favorite Sport: Skiing
Favorite CoMo Restaurant: D. Rowe's
Favorite Coffee Shop: Ragtag and Shortwave
Favorite Weekend Activity: Riding bikes along the MKT Trail
Favorite Part of Working With Patients: Building a connection