Deep brain stimulation (DBS) is a multi-step neurosurgical procedure that uses electrical impulses to stimulate a target area in the brain. These impulses affect movement of the limbs by altering the activity in a specific area of the brain.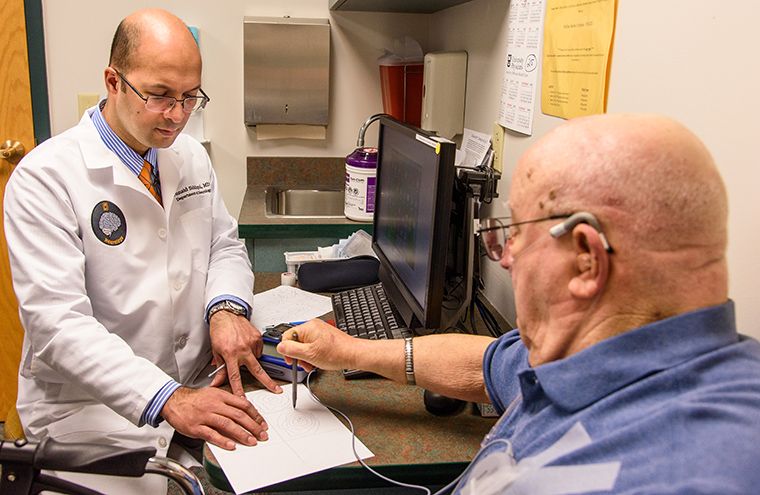 Deep brain stimulation might be used to relieve symptoms of Parkinson's disease that cannot be controlled with medicine. DBS is considered the surgical treatment of choice for patients with Parkinson's disease because it is highly effective, safer and less invasive than other surgical methods. 
At University of Missouri Health Care, a team of expert neurologists, neurosurgeons, neurocognitive specialists and nurses will care for you throughout your DBS treatment. Our dedication to patient-centered care, as well as our combined 40 years of experience, provides patients with all the benefits of an academic health system in a convenient location.  
Conditions that might benefit from this procedure
In addition to treating patients with Parkinson's disease, we use DBS to treat patients with certain types of dystonia or patients with essential tremor.
DBS helps control tremors. It can also help with changes between "on" and "off" time and dyskinesia, frequent complications seen in advanced Parkinson's disease. Symptoms less likely to improve with DBS include problems with walking, balance and speech.
Am I a candidate for DBS?
Even though DBS can be an effective way to relieve symptoms of Parkinson's disease, dystonia and essential tremors, not everyone is a candidate for surgery. At MU Health Care, you'll work with our team of experts to determine if DBS is an appropriate treatment for you.
First, you'll meet with a neurologist who measures the potential impact DBS would have on your cognition and mental health. If the tests are favorable, you'll meet with the neurosurgical team that assesses whether you are a candidate for surgery. If so, your neurosurgical team will schedule the procedure.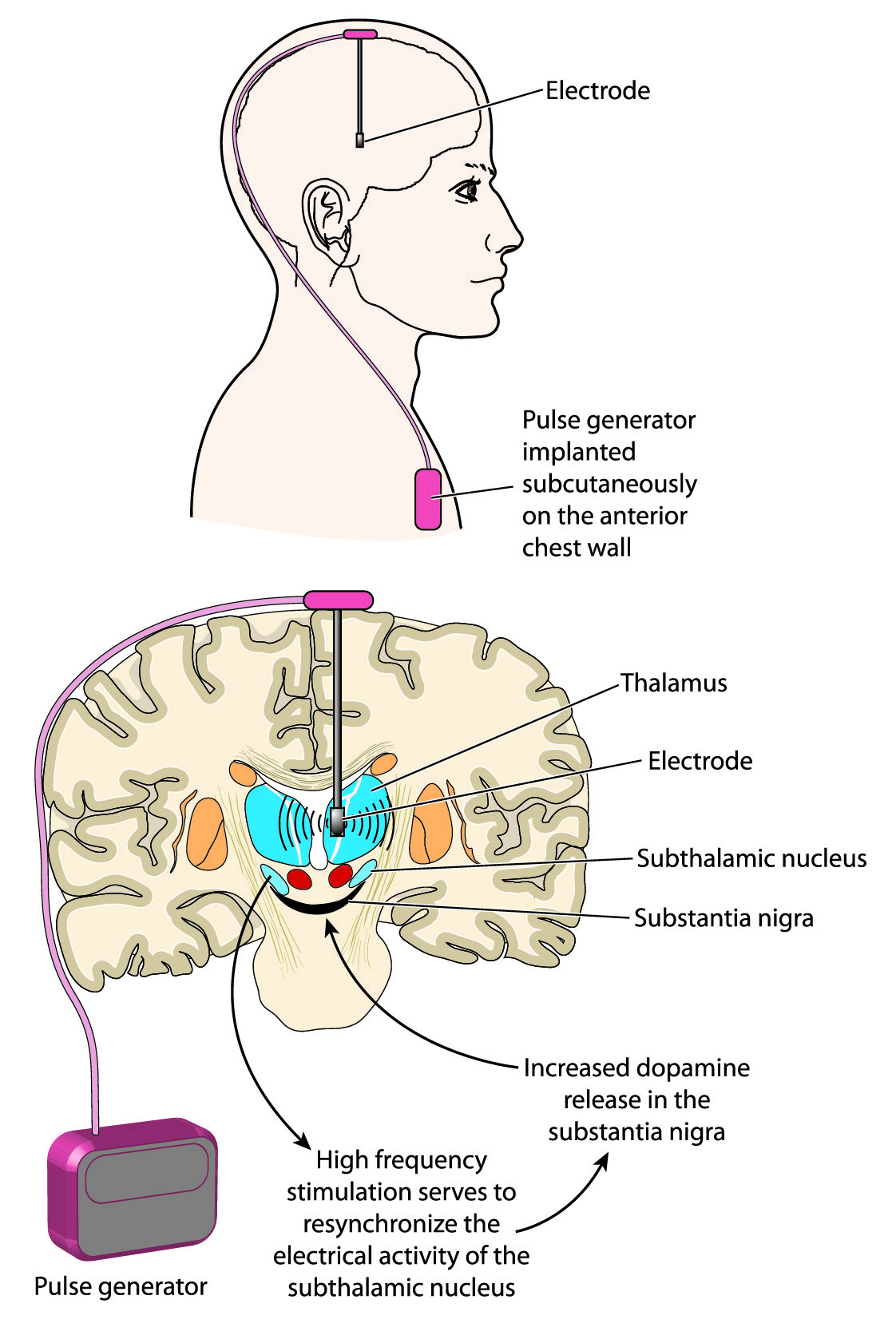 How DBS works
DBS surgery is done in two phases. The first phase is when the wiring equipment is installed. The second phase is when the wires are connected to the battery, or pulse generator.
During the first phase, your neurosurgeon places electrical stimulation equipment into your brain through a small hole in the skull. The surgeon then places a tiny wire with electrodes in the location that most benefits you. This initial surgery takes approximately three to five hours.
During the second phase, your surgeon implants a small battery-powered device, similar to a pacemaker, into your chest and connects it to the electrodes in your brain. The wiring and the battery device, or pulse generator, are placed underneath the skin (the wires are not visible). The second surgery usually takes two to three hours and is typically done two weeks after the first surgery.
A few days after surgery, you'll return to your neurologist for programming. This visit can last anywhere from four to six hours. To provide the highest level of care, your doctor personally fine-tunes your device so it delivers the correct level of stimulation to your brain and offers the greatest relief of symptoms.
After programming, your physician will schedule follow-up visits as needed – first weekly, then monthly, then every few months.
Risks of DBS
The risks associated with DBS are similar to most surgical procedures and may include:
Bleeding in the brain and stroke
Difficulty with walking or balance and an increased risk of falling
Infection or skin irritation caused by the device in the chest, or by the wires or electrodes
Numbness, tingling, twitching or other abnormal sensations when the device is turned on. These sensations usually do not last long and can be eliminated by adjusting the programming of the DBS device.
Problems with thinking, memory, speech or swallowing
Psychological problems, such as apathy and depression
Seizures
After surgery
Deep brain stimulation requires minimal care. Your doctor will recommend avoiding activities that could place stress on the DBS including sudden, excessive or repetitive bending, twisting or stretching.
Walking through some metal detectors or security gates, like those at airports and department stores, may increase the stimulation or turn off your DBS. Before walking through a security gate, make sure to show your DBS identification card to security and request a hand search. If a security wand is used, ask the security to avoid placing it over your battery.
Most household appliances and electronic devices that work well and are properly grounded will not interfere with your DBS.
Your doctor also gives you a programming device that you can use to control the DBS. Your provider will show you how to use it.
Related Conditions & Treatments