For years, Michele Alexander has been one of the biggest NASCAR fans in Columbia, Missouri. She never imagined that passion, though, would help fuel her through a battle with colorectal cancer and a race for her own life.
Alexander is sharing her story for Colorectal Cancer Awareness Month in March, and she hopes to increase preventive screenings and inspire those still fighting. One in 23 people will be diagnosed with colorectal cancer, a disease that affects men and women equally.
On March 7, 2016, Alexander went to MU Health Care's Missouri Digestive Health Center for a colonoscopy after experiencing a change in her bowel habits, a classic sign of colorectal cancer. She says doctors identified the problem - a tumor. At 53 years old, with no family history of the disease, Alexander was diagnosed with stage three colorectal cancer.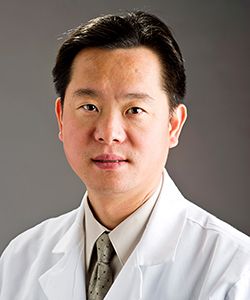 Alexander was referred to University of Missouri Health Care's Ellis Fischel Cancer Center, where she met with surgical oncologist Zihao Wu, MD. Wu laid out a plan of attack - radiation and chemotherapy, followed by surgery.
"I really wasn't scared, but it was the unknown," Alexander said. "My daughter's 24. She's still got a lot of life left. How much longer will I be with her? Those kinds of thoughts go through your head."
Those concerns were soon replaced, though, by a request. She wanted Wu and his team to make her well enough to attend an upcoming car race.
Alexander had tickets to the Night Race, a NASCAR Cup Series stock car race held at Bristol Motor Speedway in Bristol, Tennessee, just six weeks after her scheduled surgery. In addition, she hoped to win an auction to ride with her favorite driver, Columbia native Carl Edwards, during driver introductions.
A surprise phone call from Edwards multiplied her determination to make it to Bristol.
"He said, 'Don't bid. You get here, you're riding with me,'" Alexander said.
With a team of doctors and nurses behind her, Alexander's battle with colorectal cancer began in earnest. The surgery was successful, and just six weeks later, she took her ride on the track with Edwards.
"Oh, it was just joy," Alexander said, "Sheer joy. I won a race for my life, and I crossed the finish line a winner."
That race is one Wu hopes fewer people will have to run in the future. Even though the American Cancer Society predicts more than 95,000 people will be diagnosed with colorectal cancer in 2018, Wu said the disease is actually one of the most preventable.
"The majority of colorectal cancers develop from a benign polyp, and that takes about 10 to 15 years," Wu said. "If you find polyps and remove them, you won't have colorectal cancer, so it's very important to be screened."
Wu recommends screening for everyone age 45 and older who has a normal risk for colorectal cancer. Those with a higher risk, such as family history, should begin testing sooner.
Other things you can do to help prevent colorectal cancer include:
Eating well. Include more fiber and green vegetables in your diet.
Avoiding excessive drinking. Limit your alcohol intake to less than two drinks per day.
Exercising regularly. Being overweight may increase your risk.
Quitting smoking.
Three years after her diagnosis, Alexander said she is doing well. She's attended four races in 2018 alone. Two of those races - one in Florida and one in Atlanta - she won tickets to attend. Alexander's loyalty to NASCAR paid off when David Ragan invited her to his home track in Atlanta for his 400th career start.
"He kept fan mail from his rookie season over 10 years ago," Alexander said. "I was one of the fans who had sent him mail that he was able to get in touch with. He flew us to Atlanta, gave us hot passes, a rental car and suite tickets to all three races that weekend."
She continues to hope her experience will inspire others to keep fighting their battles.
"Be positive, have goals, and listen to your physicians and nurses," Alexander said.