In the spring of 2017, Vickie Boone was "in a world of hurt," according to her husband, Steve. Vickie had recently undergone brain surgery in St. Louis to remove a benign meningioma tumor and suffered complications. The Chesterfield, Missouri, resident couldn't walk. Her brain had swelled, and her wounds weren't healing. The dead skin and bone on her head likely would become infected.  
Her life was in danger. 
The Boones didn't know where to turn until a relative suggested University of Missouri Health Care. Steve left a phone message on a Sunday, and by Tuesday, the Boones were meeting with a team of specialists led by N. Scott Litofsky, MD, the chief of neurosurgery.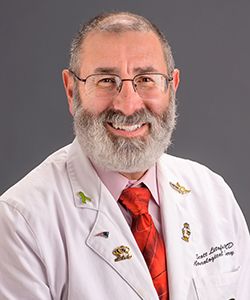 "By the time we saw Vickie, the cranial flap that was supposed to cover her head wound was all dead skin," Litofsky said. "The new skin never healed appropriately, and it looked as if an old rug was sitting on her head." 
As an academic health system, MU Health Care has more than 80 specialties and subspecialties. That means it has experts who can treat the most complex cases. To help Vickie, the neurosurgery team called in specialists in critical care and ear, nose and throat care. 
"I was very hesitant before meeting with Dr. Litofsky," said Vickie, who is now 49. "The only thing that kept me going after my first surgery was hope, and Dr. Litofsky took me under his wing. I remember immediately feeling at ease when I met with him."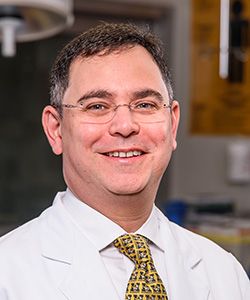 The first step was a surgery to remove the dead skin and bone. Trauma and burn surgeon Jeffrey Litt, DO, cleaned the wound and applied bovine collagen to jump-start the healing process. Vickie traveled from Chesterfield to Columbia every other day to visit Litt's clinic. Remarkably, in less than two months, 99 percent of her wound had healed enough to place a skin graft.
"The multidisciplinary approach that Dr. Litofsky and I have formulated provides patients without any other treatment options — like Vickie — something to try," Litt said. 
After two months, Vickie underwent a second surgery with Litt to place a skin graft — using skin from her left thigh — on her head to protect the wound so it could heal. She then had to wait another seven months before her final surgery. During this time, Vickie was fitted for a skull prosthetic because she no longer had protective bone covering her brain at the wound site. 
Finally, on March 29, 2018, Vickie had her last surgery. Litofsky positioned her new prosthetic skull piece and — with help from an ear, nose and throat specialist — covered the wound with a second cranial flap procedure. This time the wound healed correctly. 
"Vickie had to be patient because it's not a quick fix," Litofsky said. "This could not be done without a team approach. Our specialists collaborated to give Vickie the best and safest treatment plan for her unique situation, using techniques that are often used to treat head and neck cancers, burns and neurosurgical procedures."
More than a year after multiple surgeries, Vickie is doing daily physical therapy to help her walk again and vocational rehabilitation to improve her cognitive ability. She's focusing on spending time with her family and maintaining hope.
"My motto has been the glass is half-full," Vickie said. "If I didn't have hope, I wouldn't make it through this. I want to be here for the future memories with my husband and son. My 15-year-old is starting to drive, and that's been quite the experience."
Vickie and Steve are grateful to Litofsky, Litt and the team at MU Health Care for giving Vickie hope. Life for the Boone family would be much different without the innovative and personalized treatment Litofsky and Litt provided Vickie.
"From the first day we were there, Litofsky told us what we should expect, and it pretty much happened exactly as he predicted it," Steve said. "There wasn't an Option C for Vickie. We only had Option A and B, and we were at Option B. They immediately took control, and it's something we never had previously. For us to have that kind of attention was amazing."