Ted Craig knew something wasn't right. His body was acting funny and even worse, he found himself having a difficult time remembering things. He had fallen several times in the previous week. So when his left foot stopped working and started to drag, Ted and his wife, Jane knew that it was time to see his doctor.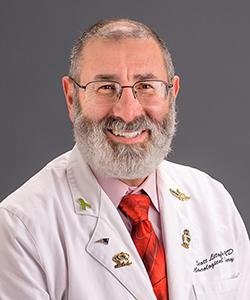 Harry S. Truman Memorial Veterans Hospital isn't an unfamiliar place for Ted, 83. He volunteered there since 1992. A veteran, he retired from the Air Force in 1979 after 27 years of service. He doesn't remember much about the day in April 2014 that his doctor at the Truman Veterans Hospital, Richard Burns, MD, sent him to see neurosurgeon N. Scott Litofsky, MD, at University Hospital.
"They saw him at the VA at 1 p.m., the VA ordered a CAT scan, and by 4:45 he was on his way to University Hospital," said Jane Craig, 82.
Once her husband was wheeled into surgery, she would not see him again until 11 p.m. Ted was diagnosed with a subdural hematoma, or bleeding on the brain. Spring would turn to summer and it would be eight weeks before he would return home.
"As the hematoma gets bigger, it presses on the brain and the brain doesn't work so well so patients can get weak, get headaches, have problems with speech and thinking, and if it continues they could die from it," said Litofsky, who serves as chief of neurosurgery at MU Health Care and as a professor of surgery at the University of Missouri School of Medicine. "If the problem is addressed, the patients can have a good outcome."
Rocky Course
Litofsky performed multiple operations to treat the several layers of membrane that had developed on the surface of Ted's brain as a result of the hematoma. Ted also likely had an earlier injury and bleeding on his brain when he fell on the ice in February 2014, but it is impossible to say for sure, Litofsky said.
By the time Ted was sent into surgery, Ted and Jane's son, David, was on a plane to fly home from Korea and their daughter, Deanna, was on her way from New York.
"It was a very scary time because we didn't know what was going to happen," Jane said. "If you saw the pictures of him then and you saw him now, you wouldn't believe it. What happened was a miracle." Jane credits the excellent care Ted received from the nurses at the Neurological Intensive Care Unit at University Hospital for helping them get through a very difficult time. While in the neuro ICU, Ted suffered seizures among other complications.
"Our nurses, Elias, James and Robin, were fantastic," Jane said. "They took the time to explain everything really well and they tried to make us as comfortable as possible."
Ted was in the neuro ICU at University Hospital until May 7, 2014, and then was transferred to Truman Veterans Hospital where he remained until May 19, 2014. Then, he spent a month at Rusk Rehabilitation Hospital, an affiliate of Encompass Health and MU Health Care, before being released on June 20, 2014. He then underwent therapy at Mizzou Therapy Services through September.
In Good Hands
"They were amazed at his progress when he went back for a checkup in October," Jane said. Ted now has full use of his limbs and in September, he overcame a large hurdle for brain trauma patients when he was cleared by Litofsky to drive again.
"Right now, Ted looks great, but he had a rocky course," Litofsky said.
Ted was in the care of several specialty teams on his course to recovery including a team from neurology as well as the physical medicine and rehabilitation nurses and physicians at Rusk Rehabilitation Hospital.
"The dedicated neuro ICU allows us to care for complex cases, and we have the subspecialty expertise in place to deal with these complicated cases," Litofsky said. "Because we have the largest neurosurgery group in this area with our depth and breadth of specialties, we can ensure the patient is being taken care of by the absolute best surgeon to handle that issue."
The Craigs are relieved to be able to return to one of their favorite hobbies: playing bingo. They play bingo at least twice per week in Columbia or Ashland and they try to visit Columbia's Activity and Recreation Center several times per week to stay active.
"I've really tried to stay active and healthy all of my life," Ted said. "I really believe that helped me recover quicker."
The Craigs were grateful to be able to receive Ted's care at facilities and with people they know so well.
Like Ted, Jane has been a volunteer since 1992. She also spent her time volunteering at the Truman Veterans Hospital, plus University Hospital, the Missouri Orthopaedic Institute and the University Physicians Medical Building. She also is an active member of the MU Health Care Service League Auxiliary.