When your child needs to see an eye care specialist, you want a doctor who specializes in caring for kids — someone who's highly skilled and makes your child feel comfortable.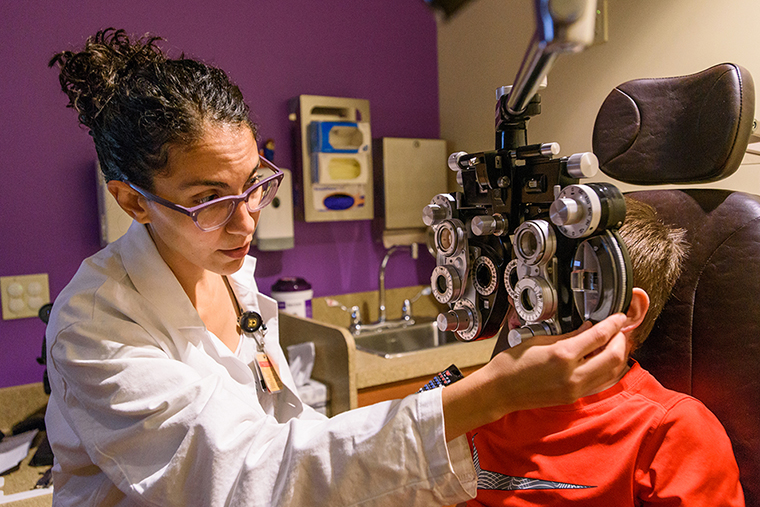 At University of Missouri Women's and Children's Hospital, that's our specialty. Our children's eye care team works exclusively with kids, and it shows. You can depend on a welcoming, kid-friendly environment that puts your child at ease. We deliver gentle, compassionate care with a smile.
When you choose MU Health Care, you receive a level of care and range of services you can only find at an academic health center. We provide everything from routine eye exams and eyeglass prescriptions to vision therapy and expert care for complex eye diseases. It's comforting to know that whatever health care needs your child has, you'll find the area's leading care right here.
As central Missouri's only pediatric eye care clinic, our focus is on delivering exceptional care to kids, including on-site Mizzou Optical retail shops that specialize in fitting infants and children of all ages. Our shops carry more than 100 children's frames in stock and offer same-day service for select prescriptions.
Leading eye care for kids
Our eye care doctors (pediatric ophthalmologists) work with nurses, visual therapists, opticians and other clinicians to offer your child comprehensive care. Whatever level of care your child needs, we keep you well-informed to ensure you're involved every step of the way. You play an important part in your child's care.
We offer the most sophisticated diagnostic technology and advanced expertise in diagnosing and treating eye conditions, including:
Amblyopia (lazy eye)
Cataract
Convergence insufficiency
Glaucoma and other genetic eye diseases
Metabolic and systemic disease
Misaligned eyes (strabismus)
Tearing problems
We'll design a treatment plan that's personalized to your child's needs, which can include vision prescriptions, visual therapy or other services to improve your child's vision health and overall well-being.
Most eye problems can be treated without surgery, but if your child requires advanced treatment, our pediatric ophthalmologic surgeons are the most experienced in the region. Our doctors also serve as educators and researchers at University of Missouri School of Medicine, so we remain on the forefront of eye and vision care.
Children's visual therapy
In some instances, your child's doctor may recommend vision therapy as part of the treatment plan. Vision therapy is a type of physical therapy for the eye and the parts of the brain that control vision. Through a series of structured activities, therapy teaches your child's vision system to correct itself.
It's often used to treat common conditions, such as:
Crossed eyes
Convergence insufficiency
Double vision
Lazy eye
Some reading disabilities
Your child's doctor will design a personalized therapy plan that's led by specially trained visual therapists.
Visual therapy can help your child:
Change how he/she interprets visual information
Develop visual skills and abilities
Improve visual comfort and efficiency
The goal of vision therapy is to treat vision problems that can't be treated successfully with corrective lenses or surgery alone.
Related Conditions & Treatments