Most people will never have to ride inside an ambulance, but for 11-year-old Tayden Washburn, an ambulance used to be his main mode of transportation. 
When Tayden was five years old, he was diagnosed with dystonia, a movement disorder that causes muscles to contract uncontrollably. By age nine, Tayden's body had developed such an abnormal posture that he was no longer able to sit in a wheelchair or ride in a car. "He was so stiff," said Hailee Washburn, Tayden's mother. "He couldn't move his arms or legs." 
If Tayden needed to get to a doctor's appointment in Columbia, he had to take an ambulance for the two-and-a-half-hour drive from his home in Kahoka, Missouri. Tayden's dystonia was so severe it made completing routine tasks almost impossible. 
"We couldn't get him dressed or do something as simple as going out to get groceries," Washburn said. "We could not live a normal life." 
Tayden's doctor, Jane Emerson, MD, associate professor of clinical physical medicine and rehabilitation, had tried almost everything to help with Tayden's dystonia. 
"We tried all of the 'normal' treatments," Emerson said. "Multiple medications and a high-dose baclofen pump weren't treating Tayden's tightness. They were just making
him sleepy."
When it seemed like nothing would help, Emerson had one more suggestion: deep brain stimulation, or DBS.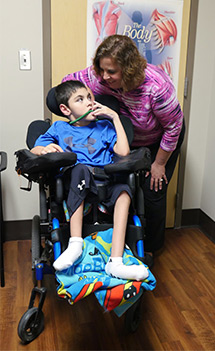 Finding New Solutions
DBS is used to treat a variety of adult neurological issues such as Parkinson's disease and tremor, but it is not commonly used in children. Emerson said that it is estimated that less than 1,000 children worldwide have had the procedure. 
"It is an invasive procedure and treatment, but for the right patient, it can be life-changing," she said. 
Tayden was 7 years old when Emerson first suggested DBS, but his parents were hesitant. 
"Dr. Emerson talked to us about DBS for a couple of years, but we just weren't ready," Washburn said. "It finally got to the point where Tayden was becoming worse and worse each and every day. DBS was our last hope for him."
In 2016, as Tayden was getting ready to turn 10, his parents made the decision to move forward with DBS. 
"No matter what treatment or medication we tried, everything was failing," Washburn said. "It all kept leading us back to DBS."
The only remaining question was: Where would Tayden have the surgery?
Deciding Factors
"We went to treatment centers in St. Louis, Kirksville and Iowa City," Washburn said. "We even went to the Mayo Clinic, but they didn't have the answers we needed." 
Dr. Emerson suggested Tayden's parents meet with Tomoko Tanaka, MD, a neurosurgeon at MU Health Care and assistant professor of neurosurgery at the MU School of Medicine.
Tanaka met with the family in February of 2016. She explained that DBS surgery is done in two phases. The first phase is when the wiring equipment is installed. The second phase is when the wires are connected to the battery, or pulse generator.
Because this was the first surgery of its kind for children at MU Health Care, Tanaka said there were a few extra steps compared to adult DBS procedures. 
"The challenge with pediatric DBS is the head size of the patients," she said. "We wanted to be certain that the surgery halo fit Tayden perfectly and that everything would be as seamless as possible."
"Before surgery, we couldn't do much at all besides sit at home. Now, we can do all the things Tayden loves, like go swimming and shopping. It has definitely been life-changing." 

- Hailee Washburn, Tayden's mother
Life After Surgery
Tayden had the first phase of DBS surgery on July 22, 2016. Of the nearly 20 surgeries he has had in his lifetime, his mom said this was the easiest. 
"We were so nervous leading up to surgery, but it went a lot smoother and more quickly than we thought." 
Even before the pulse generator was connected, Washburn said she saw improvement in Tayden. 
"Just putting the electrodes in caused a good reaction," she said. 
About a week after his first DBS surgery, the pulse generator, or battery, was placed. A few days later, Tayden got to go home — this time without an ambulance.  
According to his mom, Tayden's life after surgery is "1,000 percent better." 
"Before surgery, we couldn't do much at all besides sit at home," she said. "Now, we can do all the things Tayden loves, like go swimming and shopping. It has definitely been life-changing."
More than a year after surgery, Tayden still makes the trip to Columbia every four to six weeks to see Dr. Emerson. These days, when he sees an ambulance pass by …he just smiles.