When you have a positive self-image, you can have a positive outlook. At Ellis Boutique, University of Missouri Health Care's Ellis Fischel Cancer Center gift shop, we offer items designed for patients with cancer, survivors and their loved ones.
We support the personal and emotional needs of cancer patients with specialized items and personalized attention.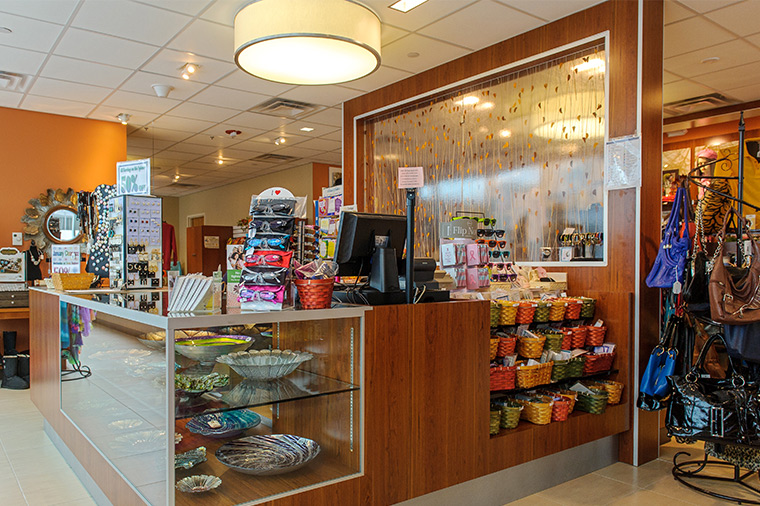 Cancer treatment can make physical changes to your body that can last for a short period of time or a lifetime. The Ellis Boutique gift shop improves your understanding of the physical changes from treatment and gives you control over these changes to help restore your self-image. By relieving some of the stress and anxiety related to your appearance, you can focus on healing.
We offer a variety of helpful products, such as:
Cards and other inspirational items
Clothing
Colors of cancer jewelry and gifts, including pins, bracelets and key rings
Hair alternatives and wig selections
Hats, scarves and head wraps
Jewelry
Medical apparel and accessories
Salon services
Unique gifts
Our boutique staff provides professional, personalized attention. We understand the needs of cancer patients and provide a private, comfortable environment for shopping.
Gift shop location and hours
The Ellis Boutique is located on the second floor of MU Health Care's Ellis Fischel Cancer Center.
The gift shop is open: Monday to Friday, 8:30 a.m. to 4 p.m.
To learn more about gift shop services, please call 573-882-6639.
Shop online
The Ellis Boutique offers a convenient, 24-hour online store to our customers who are unable to visit the hospital gift shop in person. You can order a large variety of items online that will be delivered to your loved one in the hospital.
Other gift shop locations
If you aren't in Ellis Fischel Cancer Center, you can still find gifts for your loved one at our other hospital gift shop locations: