When Mary Gladbach gets together with her sisters to play cards, it's an event that requires dressing for battle. Each woman dons a hand-made pouch necklace to hold the "foot" cards that will be used during their favorite game: "Hand and Foot."
Sisters Marguerite Thrasher and Janie Lenzini have shuffled and dealt cards with Mary for more than 20 years and have 12 notebooks full of scores to prove it.   
"We get together a lot," Gladbach said. "We play cards and eat. Oh, we can eat. We don't have anything if we don't have food."
Family is important to Gladbach, whose home is filled with photos of her six siblings, four children, six grandsons and three great-grandchildren. A fourth grandchild is on the way.
"The Gladbach's, we deal in boys. We do boys real well," she said.
Most of the extended family lives within a short distance of Bevier, Missouri — meaning her frequent family gatherings can include more than 120 relatives. If not for a conversation with a client during a house-cleaning assignment 12 years ago, Gladbach believes she would be missing out on these family get-togethers.
"I was cleaning house for this lady who had found a spot on her breast," Gladbach said. "She encouraged me to get checked. I was always looking for a little bump. Mine was a big thing."
After a mastectomy at MU Health Care's Ellis Fischel Cancer Center, Gladbach thought she'd beaten cancer. But a few years later, she was diagnosed with Stage 4 colon cancer that had spread to her liver with tumors that could not be removed with surgery.
"It was terrifying. I was a nervous wreck," Gladbach said. "I thought I was the next thing to death." 
Chemotherapy worked to shrink the cancer everywhere but in the liver. So a team made up of surgeons, oncologists, radiologists and pathologists at Ellis Fischel reviewed Gladbach's case and recommended a new type of treatment to shrink the liver lesions — a treatment Gladbach said she couldn't believe at first.
"I thought they said they were going to sting me with bees — flying bugs," Gladbach said. "I knew a girl who had multiple sclerosis and she would get stung with bees for treatment. She tried everything. I thought they were going to do that to me."
The bees in Gladbach's treatment were actually millions of tiny beads or "microspheres" filled with the radioactive isotope yttrium-90. In a treatment called radioembolization, the microspheres are injected into a liver tumor that can't be removed. They enter the body through a catheter inserted into the artery that feeds liver tumors. The beads attach themselves in and around the tumor, emitting a high dose of tumor-killing radiation, with minimal damage to the healthy liver tissue. 
The procedure took less than one hour. MU Health Care is the only hospital in mid-Missouri to offer the treatment.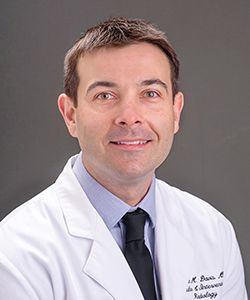 "We can actually deliver up to 40 times the radiation dose to the tumor than you can with conventional external beam radiation, because we're delivering it almost from inside out and we're able to spare more of the normal tissue," said Ryan Davis, MD, an interventional radiologist at MU Health Care. "The radioactive material has a half-life of approximately 64 hours. So most of the radiation is gone after 11 days. The microscopic beads remain in the body, but you won't know they are there."
Gladbach said the procedure wasn't painful. She didn't have to spend the night in the hospital. But as a precaution, she did have to avoid giving hugs while the beads were still radioactive. 
"I didn't feel anything, but I had to carry a card that said 'radioactive' on it," Gladbach said. "I couldn't hold any children or be close to anybody until the radioactive beads quit working."
Gladbach's cancer is stable and managed. She has one spot in her chest that doctors are watching, but they've told her it is not progressing further.
"We treated six lesions in May 2018," Davis said. "She has responded to where there's no evidence of disease in her liver. These beads are a tool to use in some of these difficult tumors to treat that are more advanced. Historically we haven't really had a good option – until now."    
Davis says the procedure is only FDA approved to treat colorectal cancer tumors, but there is significant published data in peer-reviewed journals that support its use for other forms of cancer.
At 83, Gladbach is hoping to fill a few more notebooks with scores from her competitive card playing with her sisters and enjoy more get-togethers with her family.
"We usually play a couple of times a week," Gladbach said. "It's entertaining. Then we always eat."