Jennifer Boatright is used to taking care of others' health. As a veterinarian, she has dedicated her life to taking care of four-legged friends and their owners. In 2014, though, she took time off to care for herself.
In July 2014, Jennifer went in for a routine mammogram in her hometown of Sedalia, Missouri. Her gynecologist noticed an abnormality on the x-ray and felt a lump in Jennifer's right breast. She referred Jennifer to Ellis Fischel Cancer Center. 
Deliberate decision-making
Jennifer scheduled a second mammogram at Ellis and had a biopsy taken. She also met with one of Ellis Fischel's surgical oncologists. The biopsy results revealed Jennifer had a triple-negative breast tumor.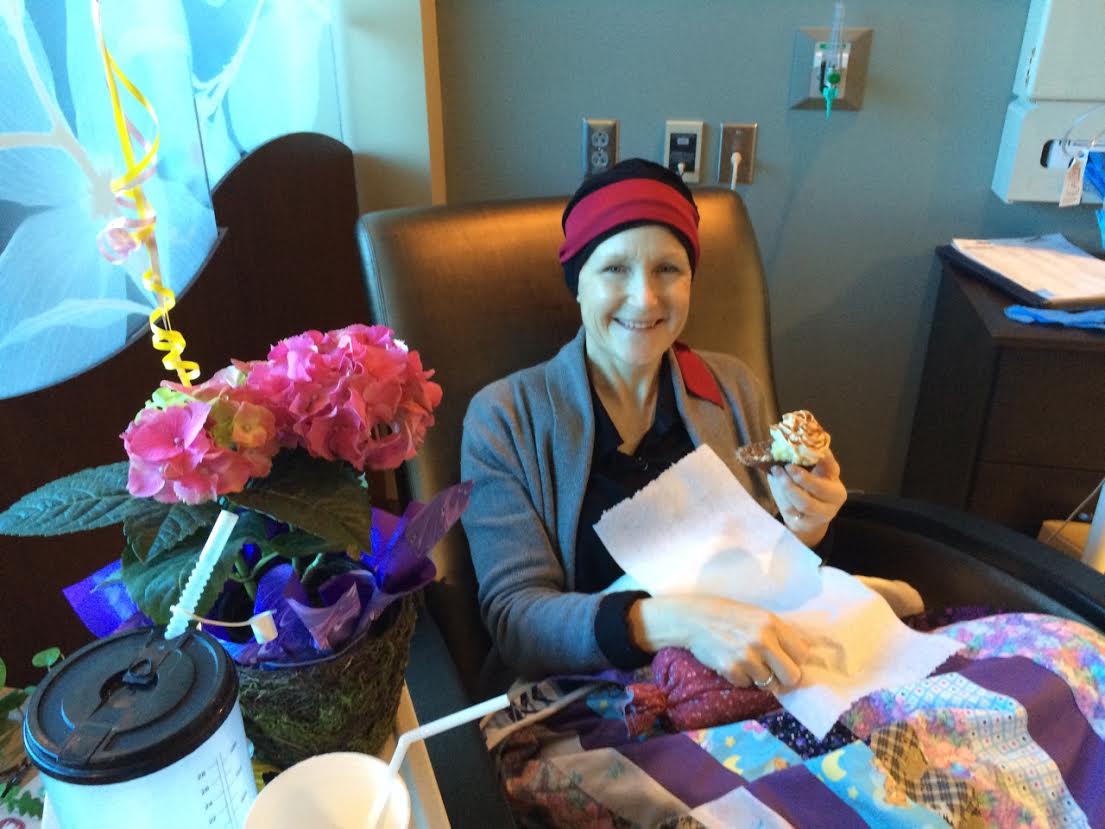 Triple-negative breast cancer affects about 15 percent of women, according to the National Breast Cancer Center. It can be more aggressive and difficult to treat, and it's more likely to spread and recur. After speaking with her oncologist, Jennifer decided to have a bilateral mastectomy to try and limit the chance of the cancer returning. "At that point, I just wanted to get the surgery done," she said. 
But before Jennifer's surgery date arrived, she received a call from Debra Koivunen, MD, another surgical oncologist. "Dr. Koivunen called on a Friday and said she had reviewed my case and talked to my oncologist," Jennifer said. "She had an earlier opening for surgery and wanted to know if I was interested. I said, 'You betcha' – let's go.'"
Although Jennifer didn't meet her breast cancer surgeon until the day of her procedure, she said she wasn't worried. "Everyone at Ellis Fischel was super attentive, very knowledgeable and encouraging," Jennifer said. "They took the time to answer any questions or concerns I had, and they looked ahead and told me what to watch out for."
Two surgeries in one
Jennifer's surgery took place in August 2014 and involved two teams of surgeons. First, Koivunen and team performed the bilateral mastectomy. Then, Stephen Colbert, MD, MU Health Care plastic surgeon, and team performed the initial surgery for Jennifer's breast reconstruction. 
"I knew I wanted to have reconstruction, and I didn't want to have to go back at a later time – when I wasn't feeling healthy – to have another major surgery," Jennifer said. "I was already going to be on pain medication for the mastectomy. To be able to have another procedure at the same time that would speed up getting back to normal was just exceptional." By starting her breast reconstruction at the time of her bilateral mastectomy, Jennifer was almost done with the entire reconstructive process by the time she finished chemotherapy. 
Before she started chemo, Jennifer saw Dr. Colbert for several follow up appointments. Although it was a difficult time for her health, Jennifer enjoyed her visits to the plastic surgeon. "Dr. Colbert and his staff were a hoot," she said. "They were really fun and supportive throughout the entire process." 
Jennifer's breast reconstruction paused when she started chemo. After eight rounds of chemo at a hospital near her home in Sedalia, Jennifer waited about six weeks to resume the breast reconstruction process. In all, her breast cancer removal and reconstruction was complete by
August 2015, just more than a year after she received the breast cancer diagnosis.
'In the genes'
During her time at Ellis Fischel, Jennifer learned about Ellis' genetic testing program. 
Because her mother died from ovarian cancer, and her sister had survived breast cancer, Jennifer decided to get a BRCA test. 
BRCA1 and BRCA2 are genes that help control normal cell growth. Sometimes, people inherit changes in one of these genes. The changes are called mutations. A woman's lifetime risk of developing breast and/or ovarian cancer is greatly increased if she inherits a harmful mutation in BRCA1 or BRCA2.
Jennifer tested positive for a BRCA1 mutation. 
"It was not surprising to see the results, considering our family history," Jennifer said. "My main concern with the positive result was what it meant for my other sister and my children." Because women with an abnormal BRCA1 or BRCA2 have an 80 percent lower risk of ovarian cancer if they have both ovaries removed preventatively, Jennifer decided to get a complete ovariohysterectomy. "I was not concerned with another surgery – especially one that would help prevent me from having to go through all of this again," Jennifer said. Even though the ovariohysterectomy would prolong her final breast reconstruction, Jennifer said eliminating a potential cancer source was more important. "I believed that taking care of everything we could take care of, right then, was going to put all of this behind me." 
Back to the farm
Three years after the cancer diagnosis, Jennifer now is cancer-free and enjoying her time on the farm with her husband, their 280 cows, 90 sheep, 80 goats and a new grandson. While she still finds time to take care of others, Jennifer says she has tried to slow down a bit and enjoy her surroundings more. 
Before breast cancer, Jennifer says she was a private person. Now, she has taken her diagnosis as an opportunity to open up and talk to new people. "Everyone's journey is different," Jennifer said. "I chose to be vocal about my cancer and not let it control me any more than possible. It's really taught me to step back and evaluate what I want to do with the hours in my day."
When asked what advice she would give to other cancer patients, Jennifer said two things: don't internalize it, and have a great support team. "There are folks who will pray for you and be there for you," she said. "Ones who understand when you want to talk and when you just need a shoulder to lean on or just to pray for you daily during your journey."