People who have stayed there describe it as a home away from home. It is a respite for the weary during difficult times.
The Wyatt Guest House, located at 1580 Jewell Ave., opens its doors to MU Health Care cancer patients and their families. Guests pay what they can afford and stay Monday through Friday for days, weeks and sometimes months. The 12 bedrooms offer warm beds, soft pillows, TVs and private bathrooms.
There are other amenities, including a library, family room, dining room, kitchen and laundry room. But it's the employees who make it feel like home.  
"From the minute we got there, they were always very welcoming," said DeAnna Foster, of Lee's Summit, who has stayed at the Wyatt Guest House while her daughter, Sarah, underwent cancer treatments. "When going through such a traumatic experience as cancer treatments, anything that relieves even a portion of the burden is a major help."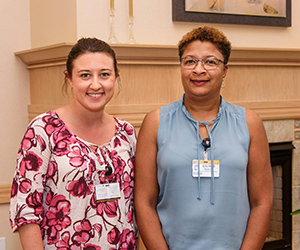 Foster said the employees genuinely cared about how she and her daughter were doing. She mentioned to Janet Turnbull, the house coordinator, that her daughter loved the cinnamon rolls in the community refrigerator.
"She bought another box of cinnamon rolls and then made sure the rolls were stocked every time we were staying at the home," Foster said.
Turnbull, who has served as the coordinator for 17 years, does her best to give families a comfortable place to relax and renew.
"I know I've done my job when patients and caregivers tell us they look forward to staying at the Wyatt Guest House," she said. 
Turnbull is helped by staff assistants Janice Fordyce, Dalynne Holly and Joyce Pfaff, business support specialist Laura Peterson and guest house attendant Alex Ethridge.
Peterson said it's rewarding to know she offers comfort to people during a stressful time.
"It's why I love working here," she said.
Foster said the warmth of the employees made the Wyatt Guest House feel like home.
"They were absolute jewels," Foster said. "They have always gone above and beyond to make us feel like we were coming home to family every time we walked through the door."