Tigers on Track is a pediatric and adolescent multidisciplinary clinic designed to help your child and family develop lifelong healthier habits. The main focus of Tigers on Track is the prevention of childhood obesity by increasing awareness about healthy eating and physical activity while improving self-esteem.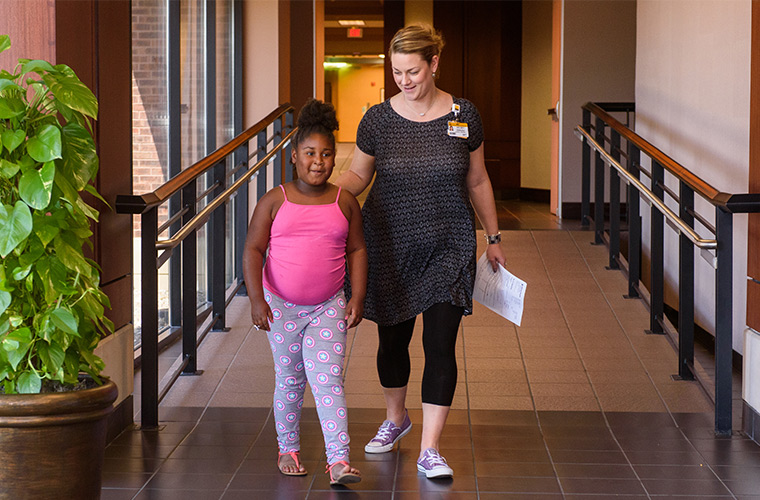 Here at University of Missouri Health Care Children's Hospital, we believe every child and family is unique in their strengths, concerns and struggles with maintaining a healthful lifestyle. Therefore, we do not offer a routine weight loss or exercise program for a specific interval of time. Instead, the focus of our clinic is to achieve lifelong mental and physical health by modifying unhealthy habits.
Tigers on Track goals
The goals of Tigers on Track are to:
Promote healthy lifestyles for children and families by sharing information about nutrition and appropriate physical activity.
Provide collaborative and comprehensive medical and ancillary services to our children and families with weight concerns.
Function as a multidisciplinary, medically-supervised weight loss program for adolescents considering bariatric surgery.
Increase awareness, access and use of available community resources to enable a healthy lifestyle.
Who can participate in Tigers on Track?
Whatever their age, your child and family are eligible to participate in Tigers on Track. We encourage the entire family to participate, including other children and adults in the family such as parents, siblings, grandparents and child care providers.
What to expect at your first visit
At your first appointment, you and your child will meet with our multidisciplinary team for comprehensive wellness evaluation, including a:
Physician or nurse practitioner
Dietitian
Physical therapist 
We will discuss your child's desired goals and expectations. The medical evaluation with a physician or nurse practitioner will focus on the assessment of complications of unhealthy weight.
Meet with a licensed physical therapist
You will also receive a comprehensive evaluation by one of our licensed physical therapists. This evaluation will include: 
Balance screenings
Cardiovascular endurance tests
Range of motion tests 
Strength tests
Based on the results, our physical therapist will compile a personalized activity and exercise program to meet your child's interests and needs.
Meet with a dietitian
Our dietitians will complete an in-depth nutrition evaluation regarding your child's: 
Eating and snacking habits
Portion sizes
Typical meals and drinks
The dietitian will help your child and family create a food plan that incorporates healthier food choices, suiting your family and lifestyle.
Research and clinical trials
Clinical research is essential to better understanding health and disease. It also helps us adopt the newest treatment protocols to provide state-of-the-art care to our patients.
During your clinic visit, the research study staff may approach you and your child to explain our various research activities.
Your participation in any research study is voluntary. It will not affect your treatment in this clinic.
Related Conditions & Treatments