University of Missouri Children's Hospital offers the most comprehensive set of pediatric rheumatology services in mid-Missouri.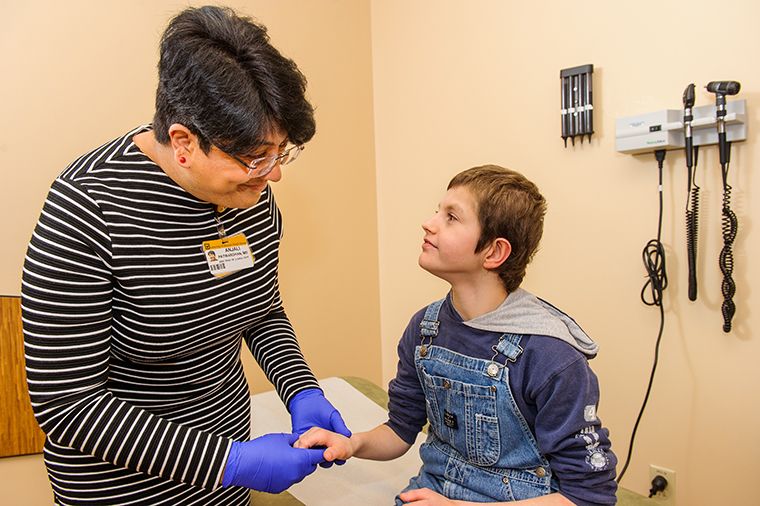 Every member of our pediatric rheumatology team understands that children with rheumatic diseases benefit from timely evaluation and care management. Each child referred to our division is seen by a pediatrician with subspecialty training in pediatric rheumatology.
Physicians work with patients, their families, their primary care physicians and their schools to develop a comprehensive treatment plan, accommodating all parties' individual needs. We call this a "shared protocol approach."
Our pediatric rheumatology clinic is equipped with bedside ultrasound, and procedures are performed under ultrasound guidance. Our pediatric rheumatologist is available for emergency consultations with primary care physicians, emergency physicians and in-patient facilities, including intensive care units. Appointments with our team can be completed in-person or through scheduled telehealth appointments. 
JUVENILE RHEUMATOID ARTHRITIS
Our pediatric rheumatologists are on a mission to bring awareness to the symptoms and prevalence of juvenile rheumatoid arthritis (JRA). The common misconception that arthritis only occurs in older individuals often leads to misdiagnosis in children.
Research has shown that early, aggressive treatment can reduce long-term symptoms in patients with JRA. Bringing your child to see the rheumatology specialists at MU Health Care can help him or her avoid irreversible damage.
OTHER CONDITIONS WE TREAT
The pediatric rheumatology team also evaluates and manages the following complex conditions:
Myositis
Vasculitis
Lupus
Mixed connective tissue diseases
Lyme disease associated arthritis
Periodic fever syndromes
Undifferentiated specific and other arthritis groups
Chronic unexplained musculoskeletal pain
Abnormal laboratory tests, such as positive antinuclear antibodies and Rheumatoid factor (RF) positive.
Difficult to treat Henoch-Schonlein purpura (HSP)
Unexplained fevers
Several other autoimmune disorders
Related Conditions & Treatments