Hi World! My name is TJ, and I am one of the coolest tigers you'll ever meet! I live in Columbia, Missouri, with all of my great pals at Children's Hospital. We lead a great life here full of fun times and exciting adventures.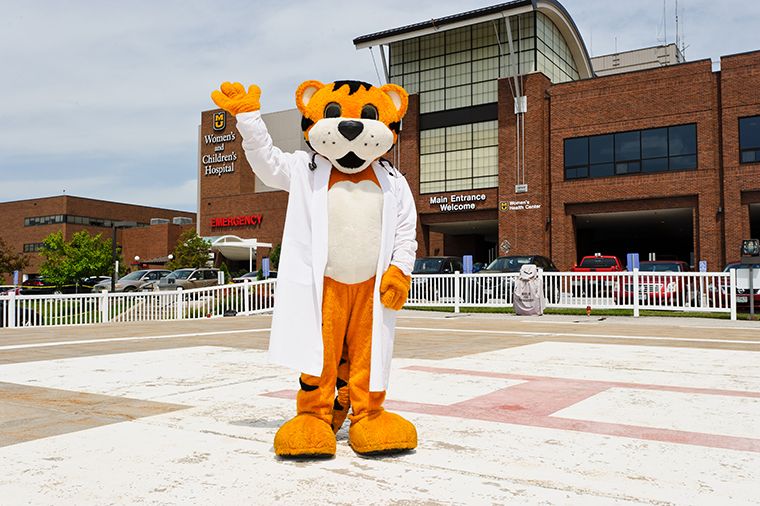 Before I can brag on how awesome Children's Hospital is, I want to tell you about how I came to live here. You may have heard of my good pal Truman the Tiger. Truman is an adult tiger who pals around with the college kids here at Mizzou. Truman is very loved by all of the students, teachers, and friends of Mizzou and has lived on campus here for a long time. I want to share a story with you about how Truman took me under his wing and gave me a home.
Before I lived here in Columbia I lived in the jungle. The jungle is a big, wild place, especially for little tigers! I lived by myself in the jungle and was always trying my best to stay safe from the many dangers around. One day, while searching for food, I injured my front paws jumping over a fallen tree. As I laid hurt, I started to cry! All of a sudden, an adult tiger came out of nowhere and took care of me. This tiger was Truman! Truman fixed my paws up and told me about his home at Mizzou. You see, Truman used to be just like me and lived alone in the jungle until he grew up and started to explore the world. Through all of his travels, he kept coming back to Mizzou. In fact, he liked it so much he just decided to stay! That day he helped me get better, he asked me if I would like to live at Mizzou too. I decided to give a shot, and I've never looked back!
Truman took care of me when I was hurt. This is why I decided to make my new home at Children's Hospital. This place is full of adults taking care of kids. I wanted to help too! Now I help kids get better everyday. By living here at the Children's Hospital, I share my story with kids and hope they learn it's always a good idea to take care of ourselves. Please visit me anytime to hang out and be sure to come if you also suffer a front paw injury. If you'd like to send me a note, you can email me at TJ@health.missouri.edu.
If you'd like me to come to one of your events, please fill out the form below and my friends will be in touch. 
I look forward to meeting you soon!